In my last blog (click here to read it), I shared my first impressions of the house, both good and bad—the latter exacerbated by a knee injury I sustained while climbing the stairs in my house for the very first time. 
My strained knee fully recovered after a few days, and I tried to focus on being grateful that we had arrived safely rather than my disappointment with the house not being in quite as good shape as we had believed. 
We now had other challenges to deal with. Despite my heroic attempts (and sadly inexcusable behaviour) in trying to convince them otherwise, the cable company refused to install internet for us until we had completed our self-isolation period. We were able to use our phones as a hotspot, but for me in particular, this was prohibitively expensive and a sadly inadequate alternative at a time when my computer was my main source of communication to the outside world. 
We found out that many things are done differently in the Maritimes than on the Prairies. It was a bit of a learning curve to adjust to the city's detailed recycling/garbage/organic waste schedule—our first week, my husband got it all wrong and we had to wait another week to have our garbage and recycling picked up. I found out that I could not apply electronically for new identification including health cards and driver's licenses as we had to either wait to do it in person or send everything by snail mail. 
Further, getting used to the unique quirks of our house took time. The kitchen and laundry room appliances were (to put it politely) on the aged side; the heating system was completely different from what we were used to on the prairies (baseboard heaters with individual thermostats in every room, and a mini split which acts as both an air conditioner and a heater); the fireplace uses a propane tank; and we still haven't figured out what some of the switches on the wall are for!   
To add to this, the first week we were here, Hurricane Teddy barrelled through the Maritimes. While the damage wasn't as great as expected in our area despite the high winds, we did lose power for an evening. It was frustrating that we were only one of four houses in our town to lose power. Aargh! 
I also got a taste of how slowly things can move in our new home province. While it can be partly blamed on COVID, getting services here moves as slowly as molasses. I was used to checking off my perennially long list of things to do quickly when I lived in a big city, often resolving things with a single phone call, not waiting days or weeks. 
"We're pretty laid back here in the Maritimes," my neighbour said when I complained to her over our shared fence. "So, get used to it!" 
We had heard before we left that it was difficult to get a family doctor. It wasn't until we got here that this really sunk in. I found out that over 40,000 people in New Brunswick are without a family doctor. This was not welcome news!   
We did use the time in self-isolation to get to know our property better. As a corner lot, our L-shaped backyard was much bigger than what we had before. Our puppy Theo just loves it! 
It was a pleasant surprise to find grapevines replete with Concord grapes twisting around the trellis at the entrance to our yard; a side garden resplendent with carrots, beets, broccoli, and rhubarb; two cherry tomato and one banana pepper potted plants the previous owners left behind; a composter; and a spacious baby barn.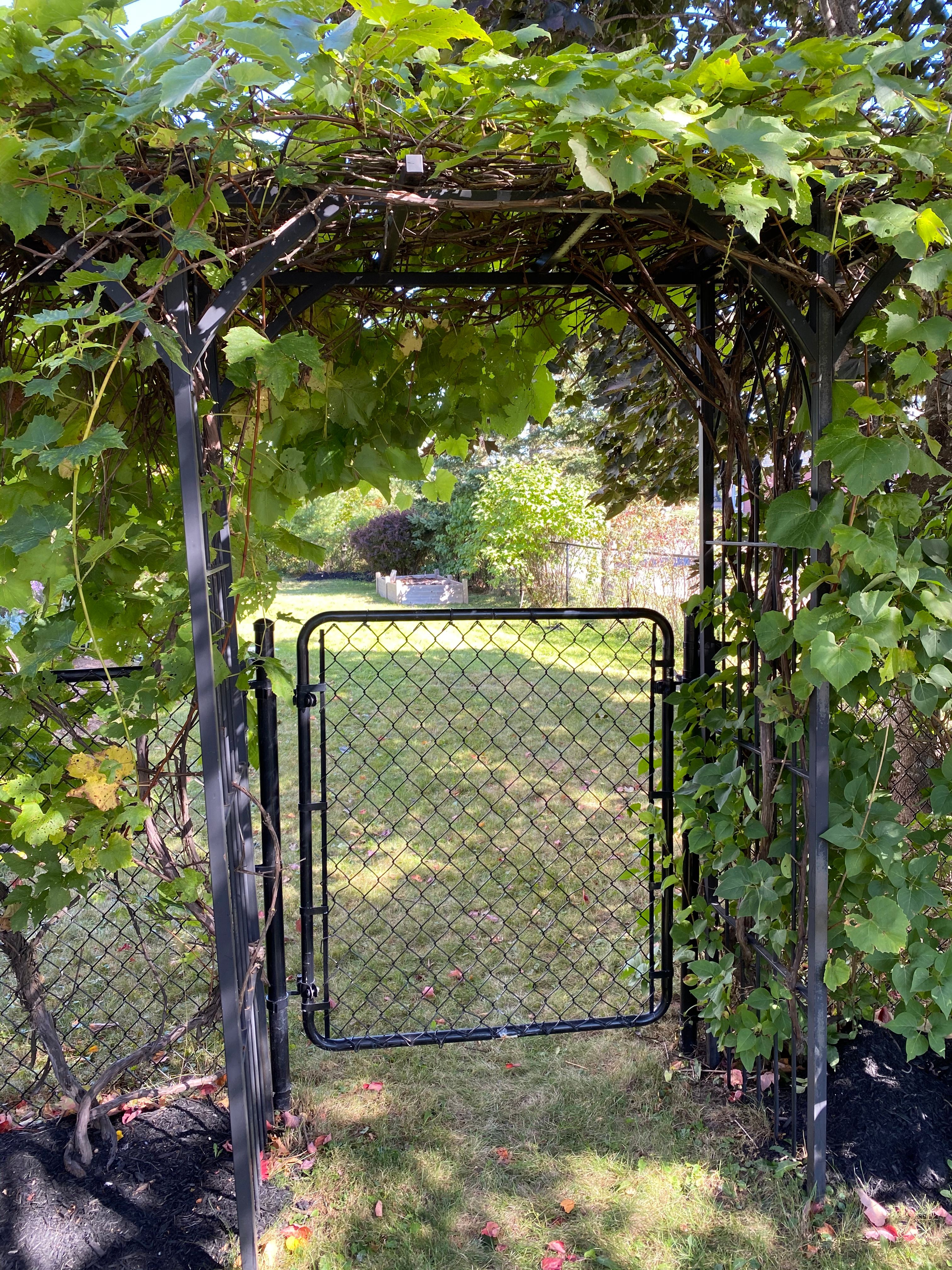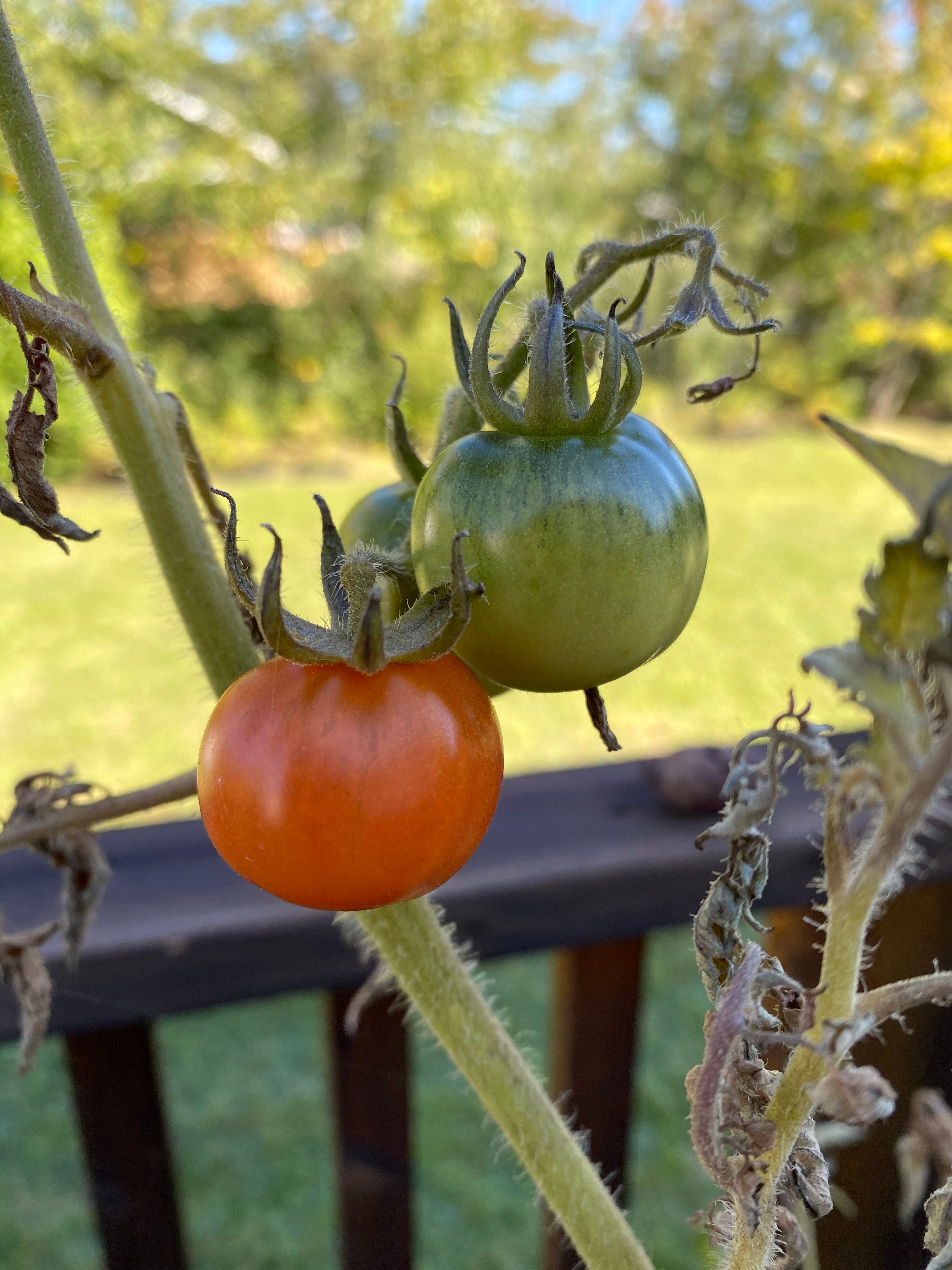 While my husband continued working remotely during our self-isolation, I took care of all those niggling details one has to deal with when moving to another province, such as address changes, details on how and where to get new licenses and plates, starting a newspaper subscription, etc. etc. Having to take care of all the minutia after 27 years living elsewhere was extremely time consuming and it would take months before I got on top of it all. 
To exercise, we would walk around and around our house as we were not allowed to leave our property. While we were outside, we met a number of neighbours, and everyone seemed very friendly. 
I noticed that LOTS of people walk here, and there are many, many dogs. We would fit right in! 
Finally, the day came when our 14 days of self-isolation ended. Here's a photo to commemorate that blessed moment. Notice the big smile on my face!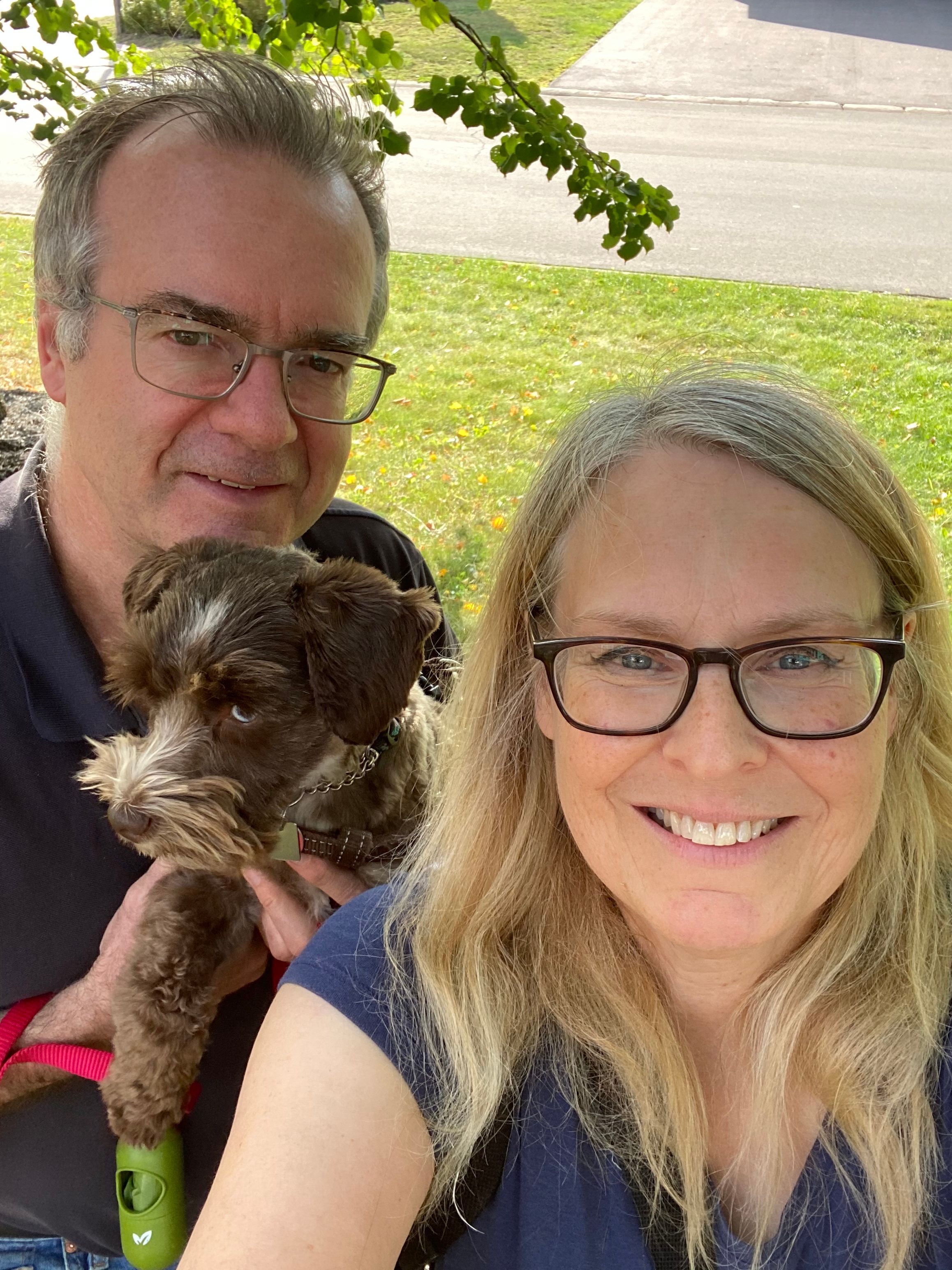 We were incredibly grateful that despite having travelled across Canada in the midst of a deadly pandemic to a place where we knew no one, we were healthy and safe with no trace of the virus.
Hurray! We made it!
One of the first things we did when we were finally allowed to get out and explore our new town was investigate the walking trail just a few short minutes' drive from our house. It was the beginning of an almost daily ritual which boosted our physical, mental, spiritual, and emotional health as we drunk in God's gorgeous creation. 
As I close off this leg of our journey, I want to thank all of you who have taken the time to tag along with me. It has been a wild ride, and I have no doubt that more challenges are just around the corner. 
So far, this blog has documented our long journey to finally get to the east coast. For this next season, I will be sharing about the highs and lows of exploring our new province and adjusting to life far from the one I had grown to know and love for 27 years. 
I will also be answering this question: how will this move impact my future vocation? Will I keep writing? Doing music? Speaking at schools and conferences? Or does the Lord have something else up His sleeve? 
Stay tuned for lots more to come in 2021!