Shortly after Theo turned 10 months old, we had to take another trip with him to the small animal hospital emergency department. (Click here for the first incident.) Like many accidents, it could have been avoided; but it happened so quickly and unexpectedly, there was little we could do. Here's what happened. 
I sometimes let Theo play with "non-dog" toys and household items but only when I can supervise him closely for safety. On this particular occasion, I had to do some work on the computer, so to keep him occupied, I handed over a mechanical wind-up toy to my visiting son with strict instructions to him and my husband to watch Theo carefully. The toy was a holdover from my science show days many years ago. 
Theo has played with this toy a number of times under my supervision without any issues. Here's how it works: when the toy is wound up, it vibrates and skitters around like a nervous bug. In fact, when I first introduced Theo to it a number of months ago, he would circle around and bark at it. Eventually he got the courage to paw it. Finally, as he got bolder, he would grab it with his mouth and run away. 
Next thing I know, my son is saying, "Uh, oh!" I turned my chair around (we were all in the same room) to find the toy was stuck on Theo's face. When I looked closer, the toy's gear mechanism had caught up Theo's facial hair and part of his lip.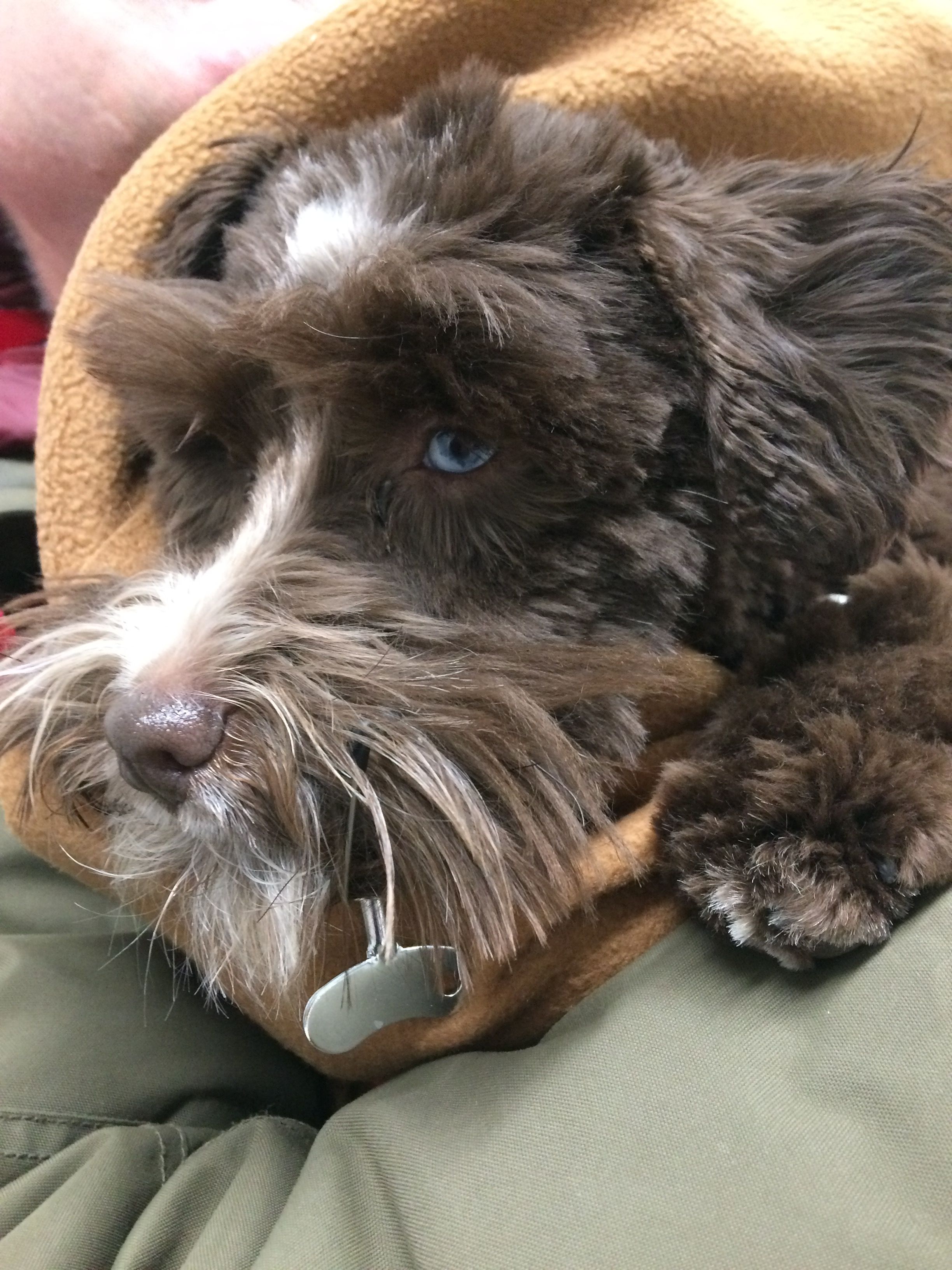 Try as we might, we could not dislodge his hair from the toy without fear of ripping his skin. So off to the emergency department we went. 
"Hmmm," said the veterinary technician as she registered us. "I've never seen a dog toy that looks like this." 
"Errr," I said, "it's not a dog toy." 
Although she didn't say anything further, I could feel the sting of judgment. 
The vet ended up having to put him under anesthetic in order to extract the toy. We were in and out in less than an hour, and although the assistant walked him to us, Theo got very sleepy afterwards, as if he was given too much anesthetic. 
We were asked to monitor him for the next 24 hours to make sure there was no swelling in his mouth where his skin had got caught up in the gear. 
As I watched over him that evening, I could see his leg muscles spasm, and according to the Internet, it was likely in response to the injury and/or the medication. I lay down beside him and held him close. It was the worst thing to feel him tremble the way he did. 
Eventually, the spasms stopped, and he ended up getting a decent night's sleep. I did not like how he suffered because of human error.
~~~~~~~~
A few weeks later, we boarded Theo overnight with his regular doggy day care provider so I could go on a mini author tour. My husband and I dropped him off at 8 am and went on our merry way.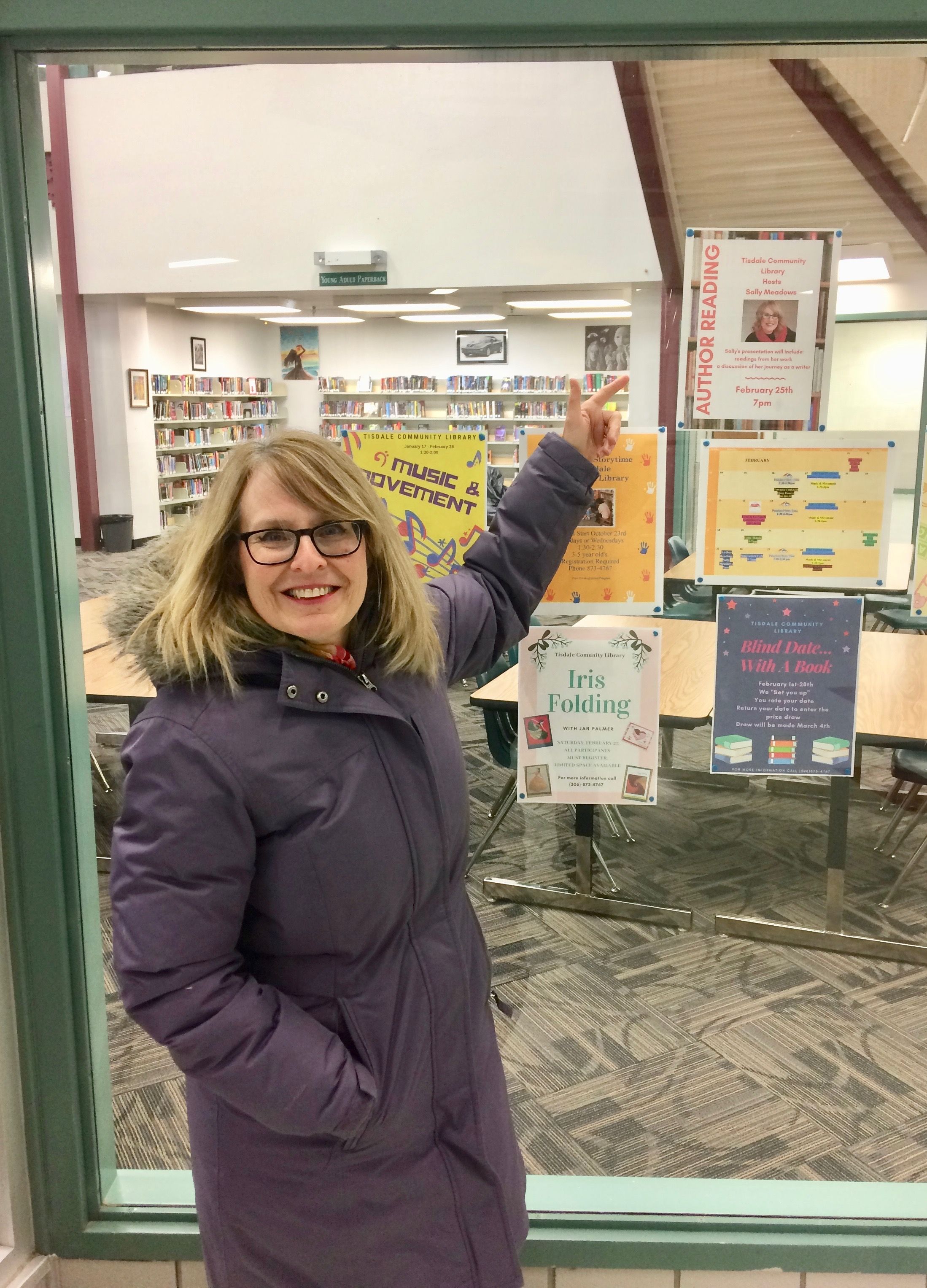 I had two author readings that day; the first one in the afternoon at a school about 300 km away from my home, and the second one for adults in the evening at another town. My husband accompanied me, and after my second event we stayed overnight in a hotel paid for by the library board, then headed straight back home the next day to pick up Theo at around noon.
On the way there and back, I got some wonderful photos of snowy owls.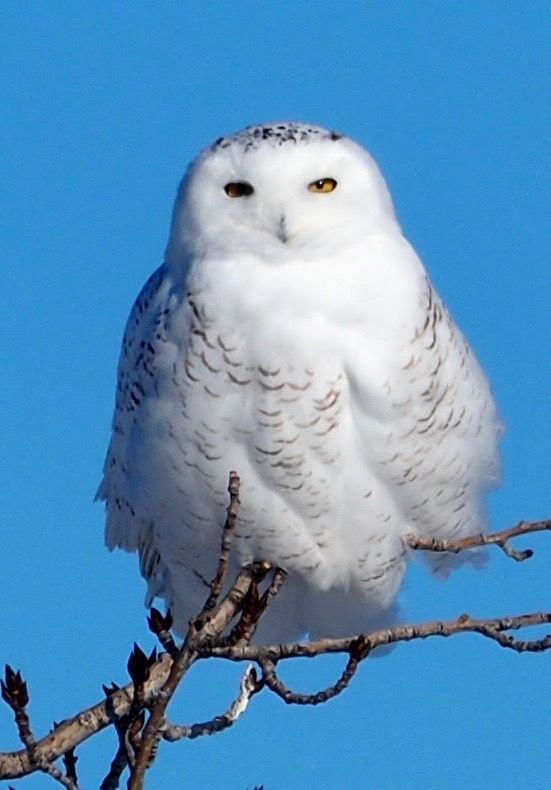 This is the first overnighter I have done since we brought Theo home with us. With two back-to-back presentations, and almost four hours of travel the first day, I knew that this trip was going to be physically and mentally demanding on me, and I didn't want the responsibility of having the puppy along with us. We thought he would be fine with the doggy day care sitter we trusted.   
When we picked him up, his caregiver said he had done just fine. But once we got him home, he wouldn't eat and slept most of the afternoon. And boy, did he not look well. 
About an hour after we fed him that night, he threw up. 
We will never know exactly why Theo was sick that night, but I have my suspicions, since he didn't have any more symptoms after and he was perfectly fine by the next day. Based on this similar pattern of sleeping extensively after doggy day care—we typically leave him for no more than four hours—and two more episodes when he has thrown up just before or just after we have picked him up, I have to conclude Theo simply can't settle down when there are too many dogs around. (All three incidences happened in February when the caregiver had many boarded dogs due to people going away on winter breaks.) 
So lesson learned: although Theo is the most social little doggy you'll ever meet, he does not flourish when he is over-stimulated for too long a period of time. 
I used to think that Theo got bored being in the home of two adults with no kids and no other pets, but in the end, I do believe we are the right parents for him. He enjoys his time out and about, but he also needs his peace and rest; and he gets that in spades when he is home. 
Till next time….