One of the things I have found difficult to master since our puppy Theo came into our life is figuring out how to maintain a balance between our normal (old) life as a family of two and the new one (life/family) that includes Theo; in other words, how NOT to let our puppy take over and/or diminish what we once had. It's been a tough go for both my husband and I. But we're working on it. 
Routine is key. We have now a routine in place that allows me to work up to four or five hours a day on the days Theo goes to doggy day care. The last two weeks he has gone three mornings a week, which has allowed me to 1) finish doing my taxes, and 2) finish the first draft of my new nature trivia book—the second one in a planned three-part series (the first one of which is When Sleeping Birds Fly: 365 Amazing Facts About The Animal Kingdom). Hurray! 
I have also been prompted to return to my music, which I have been on hiatus from for over a year. I was witness to a mini miracle a few days ago when the digital display on my keyboard was spontaneously and miraculously restored just as I had started to work on selecting, refining, and recording two songs for an upcoming songwriting event. The digital display, which normally allows me to modify the sound of my piano to simulate other instruments (amongst other things), went on the fritz when we moved our keyboard to another room when we got new furniture. When we moved the keyboard back to the front room this past January in the spot we had placed our Christmas tree, the digital display was still non-functional—until I actually needed it this past weekend. Hallelujah!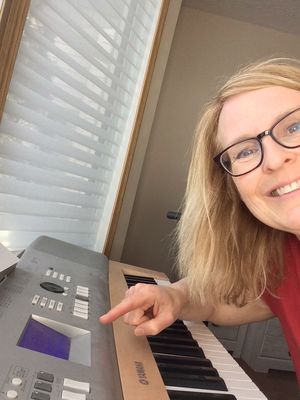 We are trying to get back to doing short trips outside of the city to photograph wildlife, as this (spring) is absolutely the season to do so. Theo has been SO good during these trips. I have a feeling he is going to be a really good traveller when we start doing longer trips; as an extrovert, he really does enjoy doing new things and going new places. Here's a recent photo showing the different harness/setup we are using when he is in the car. This allows him more freedom to walk around and lie down (if he so chooses) than the boxy puppy seat in my car. The disadvantage is that he can't see well out of the side windows because he is no longer elevated (and he is too short)—so he watches out our windshield instead.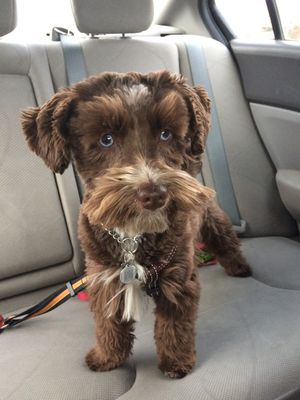 Here are a few recent Theo anecdotes: 
* When I have to take something away from him because he shouldn't have it or he is misusing it or we have to go somewhere, he will get up on his back legs and cling to the back of my leg even as I try to walk, begging me to give it back. 
* I have this cute decorative kitty, which might be made of real fur. I knew I was courting trouble when I decided to let him play with it, but it's been worth it for the fun we've both had! Exactly bite sized like the vermin his ancestors were trained to catch (schnauzers were bred to be "ratters"), Theo's favourite thing to do is to paw kitty like prey and then grab her with his mouth and run away with her. I then chase him around and around. It's a game we both enjoy. Another thing I do is bury her under a blanket or behind our couch pillows and then he burrows down to find her. Sadly, I have had to retire kitty because the material underneath the fur was starting to crumble and it was no longer safe for him to play with.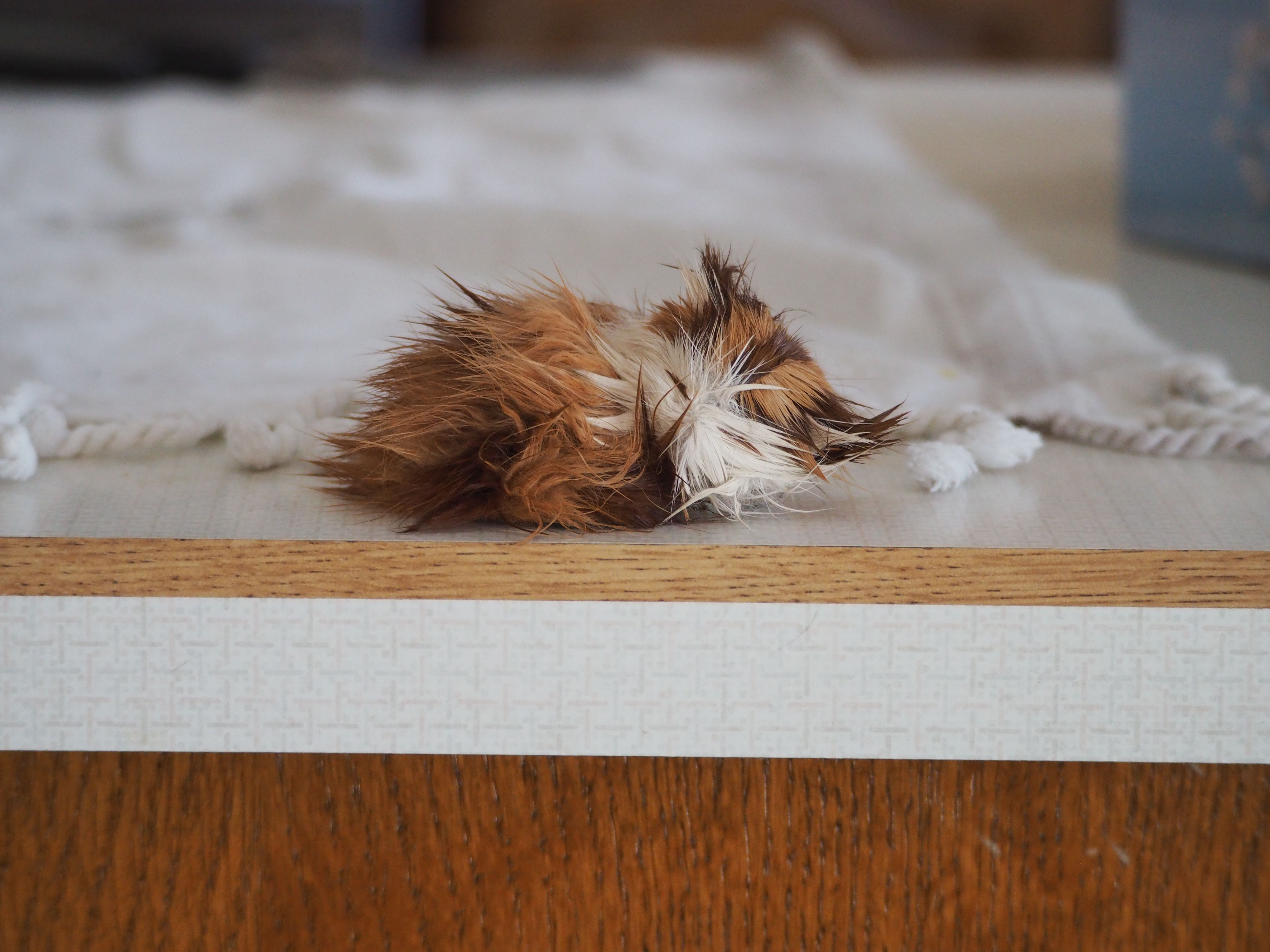 *Theo had his first trip to Michael's craft stores this past month. I had read in our city newspaper that our local Michael's store was open to customers bringing in their dogs to shop, so when I needed a new pack of cards and envelopes to make some photographic cards (available at McNally Robinson Booksellers, SaskMade Marketplace, and Turning the Tide bookstore), it was the perfect opportunity to shop with him (as we could easily be in and out). Unfortunately, I got quite a few looks of disapproval from other patrons (although the staff didn't seem to mind). I likely won't bring him again because I want to bring him only to places where he will be welcomed. 
*One day, Theo was lying down sleeping when he suddenly, clearly, and loudly howled. I can only imagine what he was dreaming about! It was a reminder that as cute and cuddly Theo is as a pet, he will never be far away from his ancestral roots as an animal. 
That's it for this month! Can't wait to celebrate Theo's one year birthday, coming up soon!