One week shy of Theo's five-month birthday, we decided that it was high time that he got a haircut. With this fall's dewy mornings and unusually wet weather, it was becoming quite tedious to dry him after each walk; as a terrier, Theo tends to walk low to the ground, often getting sopping wet from his face to belly to legs. 
Snip 'N' Tails came highly recommended by another Miniature Schnauzer owner. So off we headed last weekend to get our little Theo trimmed and see what was under that gorgeous mop of hair.  Here is his "before" photo.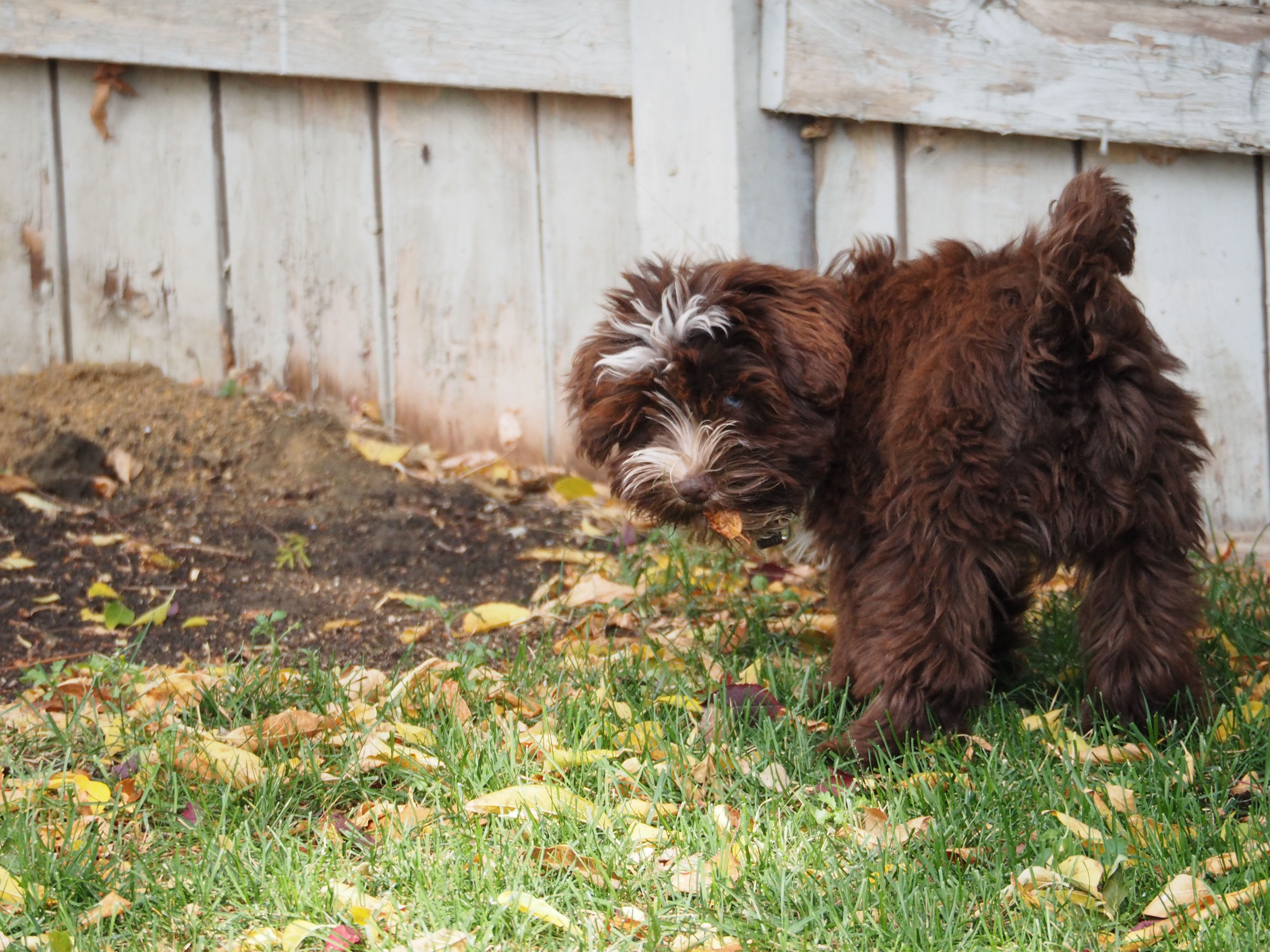 We were a little apprehensive to leave Theo for a couple of hours with "strangers" but the owners quickly won us over. Theo also seemed very comfortable, so we left him without hesitation to go and take some wildlife photographs and, time permitting, shop for groceries. 
It was a lovely fall day, and I was able to film a huge flock of snow geese. We also spotted a rare sight in an area we had visited often over the last two years—five bald eagles, including at least one juvenile. Happy with our short jaunt, we headed off to do our groceries.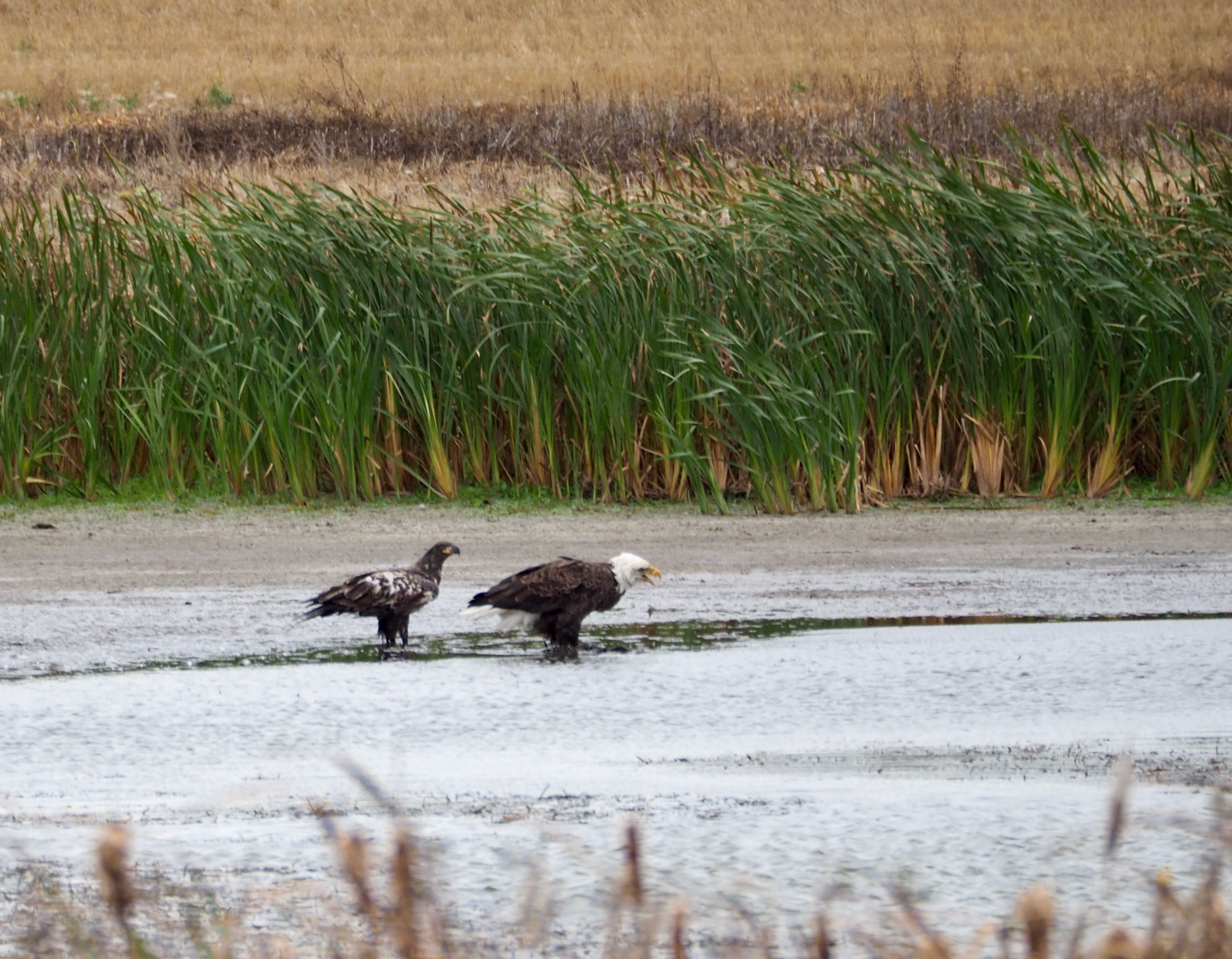 We were just wrapping up our shopping when we got the call that Theo was groomed and ready to go. We dashed home to drop off our groceries and headed back to the doggie salon, which is about 15 minutes out of the city. 
When I peeked into the grooming room to let the owner know that we were there, she reached into one of her kennels and pulled out a small dog. At first, I thought she got my puppy mixed up with another one—why was she pulling THAT dog out of the kennel??? It took me a few seconds to realize that this was our little Theo. With his hair trimmed to a modified Schnauzer cut and a snazzy orange bandana tied around his neck, he was unrecognizable from the bear-like little teddy bear we brought in. 
It didn't take long for us to fall in love with him all over. It was like having a whole new puppy! It was wonderful to finally see some of his features that had been obscured by all that puppy hair. (By the way, Schnauzers have hair not fur. This is why they shed very little and are virtually non-allergenic.) We could clearly see his lovely blue eyes, now accentuated by his Schnauzer eyebrows. His cute floppy ears, atypical of Schnauzers, are slightly asymmetrical, and he has a much longer neck than we expected. When he walks, we can see his powerful, sturdy Schnauzer build much more clearly. Finally, from a practical perspective, by having the hair around his mouth and behind trimmed, he has fewer problems with food and "other" (LOL) debris.  (Anything that makes this journey easier for us is very much welcomed!) 
I asked the groomer how he did during the clipping process. "Considering that this was his first time, he actually did really well," she said. I was very pleased and would not hesitate to take our puppy here again. 
Just like with a baby, a first haircut is a momentous occasion. I was a little sad to see his soft, luxurious puppy hair go, but I am delighted to see the "real" Theo emerging. As different as he looks now, he still looks and acts like a puppy; and it is so much easier to see those characteristics that make him uniquely Theo.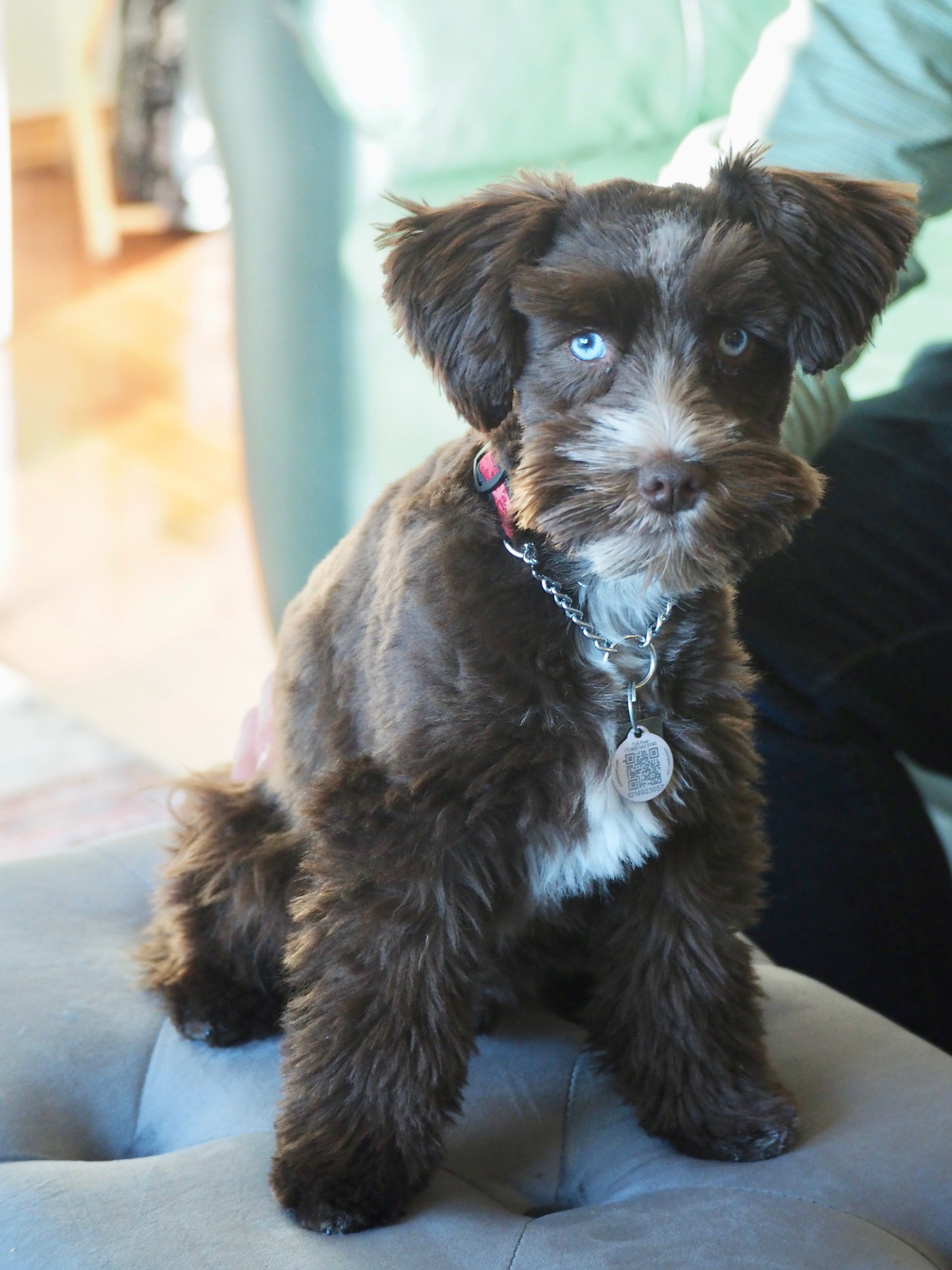 If you'd like to read my Adventures in Puppyland from the beginning, please click here. 
Please consider signing up for my newsletter. You can find the link here.