This past week was Theo's final class for puppy training. As per usual, as soon as I pulled him out of his car seat and he realized where he was, he couldn't wait to jump out of my arms and join the other puppies. We were one of the last to arrive on this day, and as soon as I put him down, off he went, no doubt saying, "Wait for me!!!!!"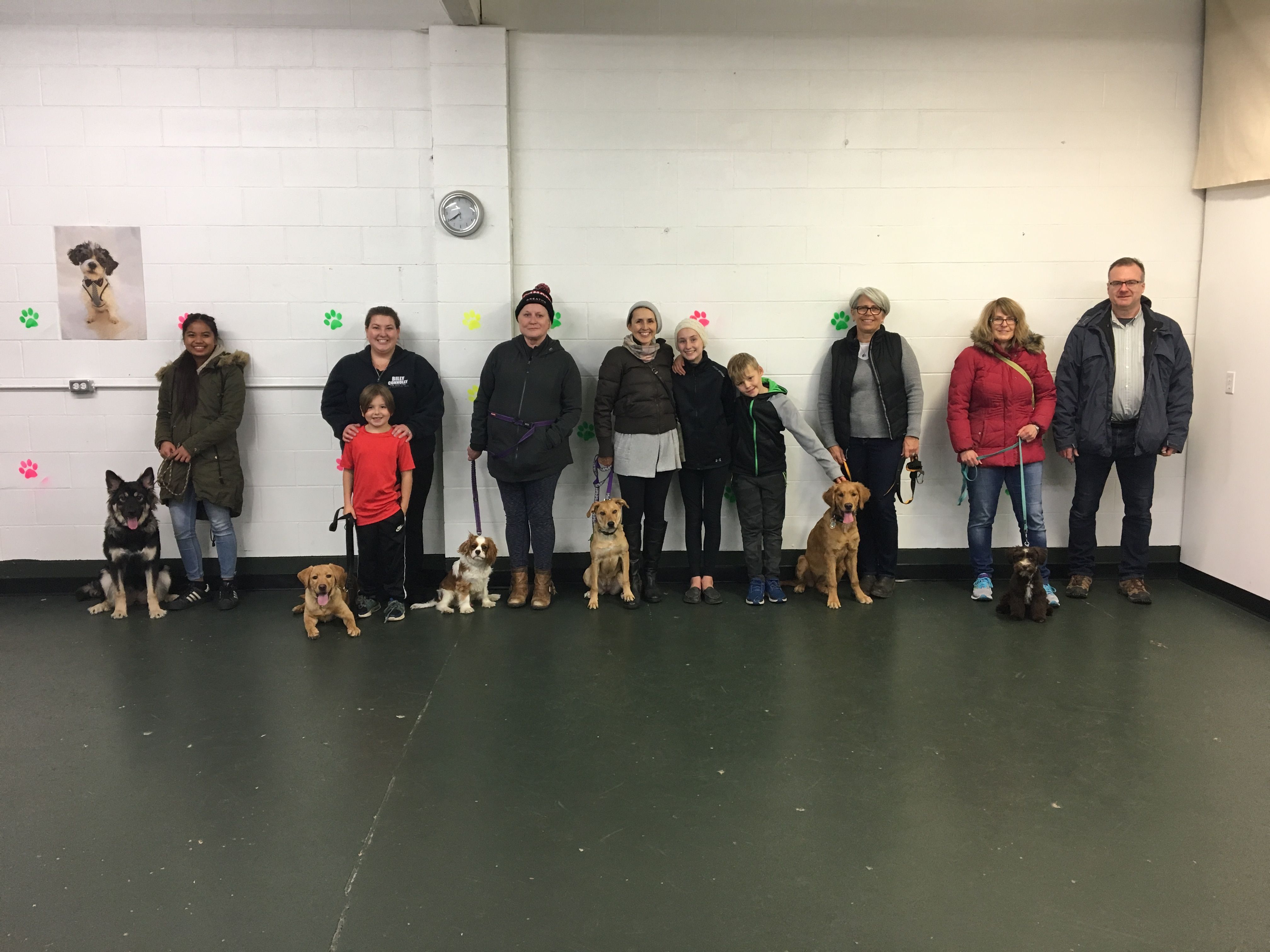 This class was a review of everything the puppies had learned over the past six weeks. As a warm-up, we were to practice walking with our puppy by our side, including doing sudden direction changes, and getting our pups to sit and lie down on demand. Theo was WAY too excited for any kind of structured activity. He was so pumped at seeing his friends again, it was hard to do anything with him but walk around and try to stop him from interfering with the other pups' training. 
With the warm-up done, the trainer introduced an interesting activity. We were to practice everything we learned about training puppies, but with a twist—we were to practice with all the other dogs EXCEPT our own pups! (In fact, I let my husband, who was along this week, take over this part of the evening while I watched at a distance.) It was interesting to see how Theo did with other adults, and how owners of big dogs did with small dogs and vice versa. Theo was still very distracted by the other dogs during this activity. This is something he has to work on. 
Each of the dogs was returned to his/her rightful owner and we entered into a period of competition based on what we'd learned over the six weeks. There were no prizes, just the opportunity to see how far our pup has progressed from the beginning. 
The first challenge was to be the first to walk your pup and get him/her to sit down seven times and return to the starting place. Sitting quickly is NOT something Theo does well. So he ended up being in second last position. 
The second challenge was to be the first to have your pup lie down. Theo surprised me by coming in third place although I think he may have tied for second. Lying on command is something Theo has done well since. One thing we are working on is to get him to STAY lying down until I release him, especially difficult for Theo when there are distractions around. Because he is so very sociable, he gets easily off course when he spots people or other dogs. 
The third challenge was to have the pup sitting in a "sit" the longest time. I have been getting Theo to sit while we clean up his poop while on a walk, so it is something that we have been working on. I was thrilled that THEO WON! He sat for 3 ½ minutes, an eternity for an active pup! (He could probably have sat longer, but we stopped as soon as the second place pup broke his sit.) It was interesting that the pup in second place apparently held his master's eyes the entire time. Theo, on the other hand, kept looking around. I was very surprised and very pleased that he did so well. 
Theo's ability to focus got better and better throughout the evening. As we moved on to other challenges, he continued to surprise me. On the one hand, I knew he has the potential to be highly trainable, but on the other hand, I haven't exactly worked super hard in training him. He proved himself this evening to be a very obedient pup. 
The next challenge was to get each pup to sit and stay as we backed up. Theo and I have only done this to the end of his leash (about six feet). This time I was able to drop the leash and continue to back up all the way across the gym area where shouted out "Theo, come!" Again, Theo shone. Unlike some of the bigger dogs that sauntered over to their master—and some pups struggled with doing this at all—Theo stayed perfectly still until I called him, at which point he ran like a shot right into my arms. 
The last challenge required the owner to stand across the room while the trainer held the pup by its leash. When we were ready, she would drop the leash and we were to call out with the intention of having the pup run right to us. While some dogs struggled with this, Theo was right on point. The funny thing, is that three of the other dogs, who were waiting on the sidelines, wanted to run to me too when I yelled out "Come"! Pretty good for someone who's never owned a dog before! 
Once all the competitions were done, it was time to play. The trainer split the group in two; Theo and his best buddy Finlay, along with the large German Shepherd mix Samantha, played in one room while the other three rough-and-tumble pups stayed in the gym. It really warmed my heart to see Theo and Finlay play—in addition to wrestling, they did some exploring together (and even peed on the same spot together LOL)—with gentle Sam joining in where she could. 
I was thrilled to organize a play date between Theo and Finlay in a couple of weeks. If all goes well, I will share about their playtime in a future blog. 
At the end of the evening, the pups received their graduation certificate and a super cute, pumpkin-flavoured "pupcake" with sweet potato icing. I also got a $50 gift certificate for additional services, which I can use for either personal training help or the next level of classes next spring.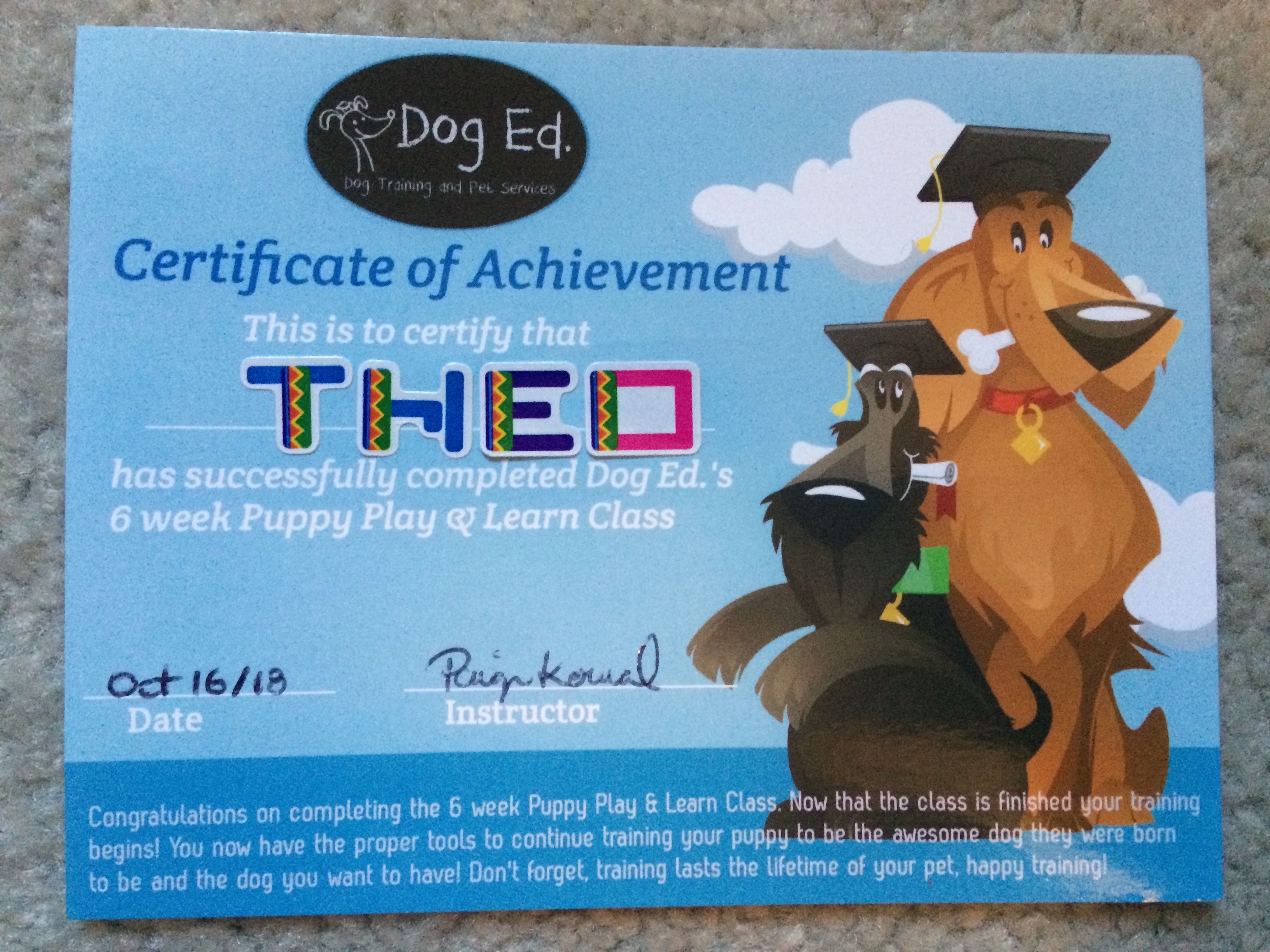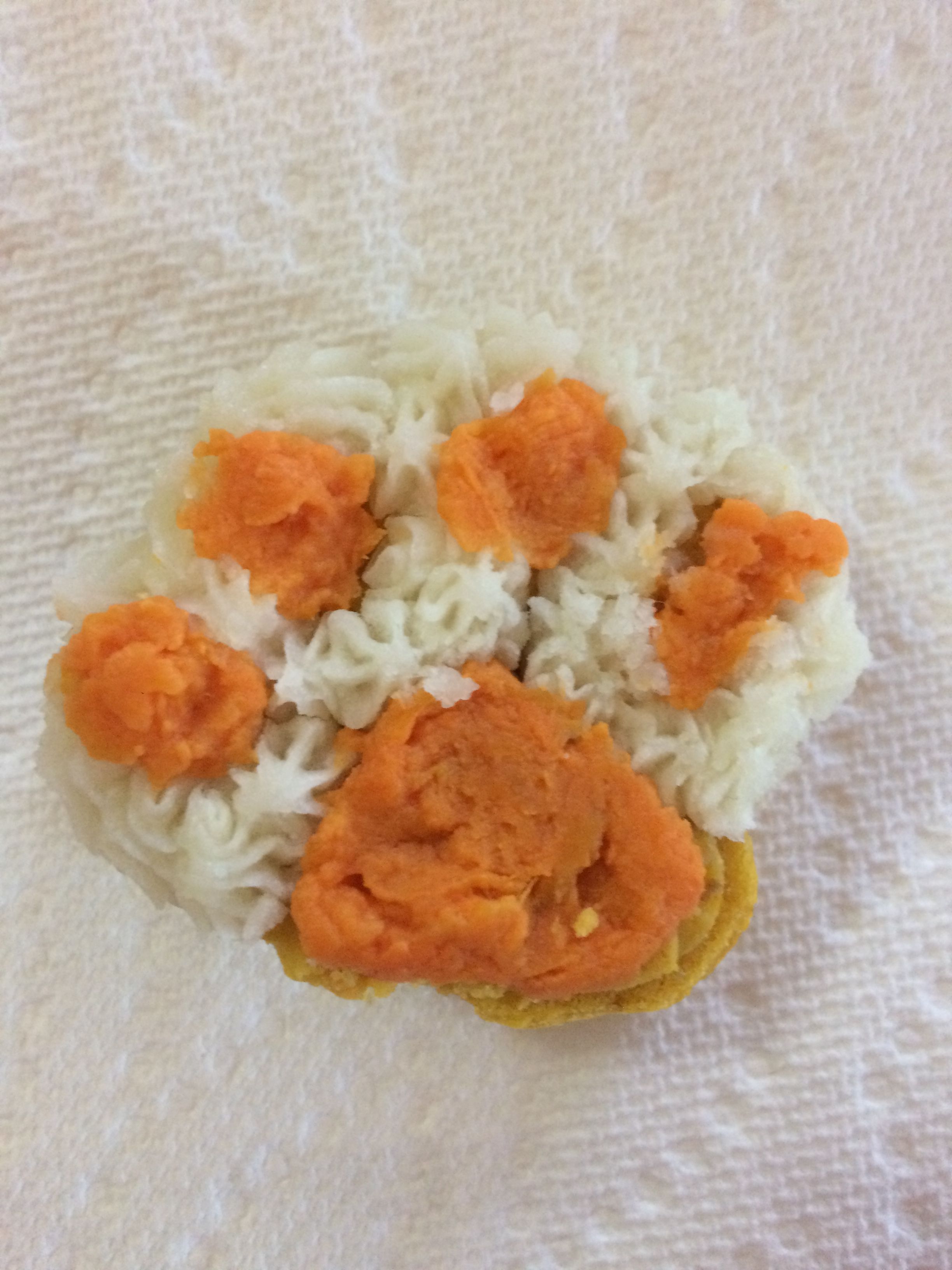 I highly recommend new pet owners do a puppy training class. It is a great place to cheer each other's puppies on and is great for both learning and socialization. 
If you would like to get a PDF of my FREE award-winning Christmas puppy story "No Greater Gift," please sign up here. You will also receive my monthly email newsletter. 
Till next week….