I started this past week feeling drained. With two books launching over the space of a couple of months, I haven't been able to take weekends off because I have so little time during the week to actually get work done because of puppy (and other family) responsibilities. 
So the inevitable happened. (Inevitable in that when I am over-taxed, I am at risk for injury or illness.)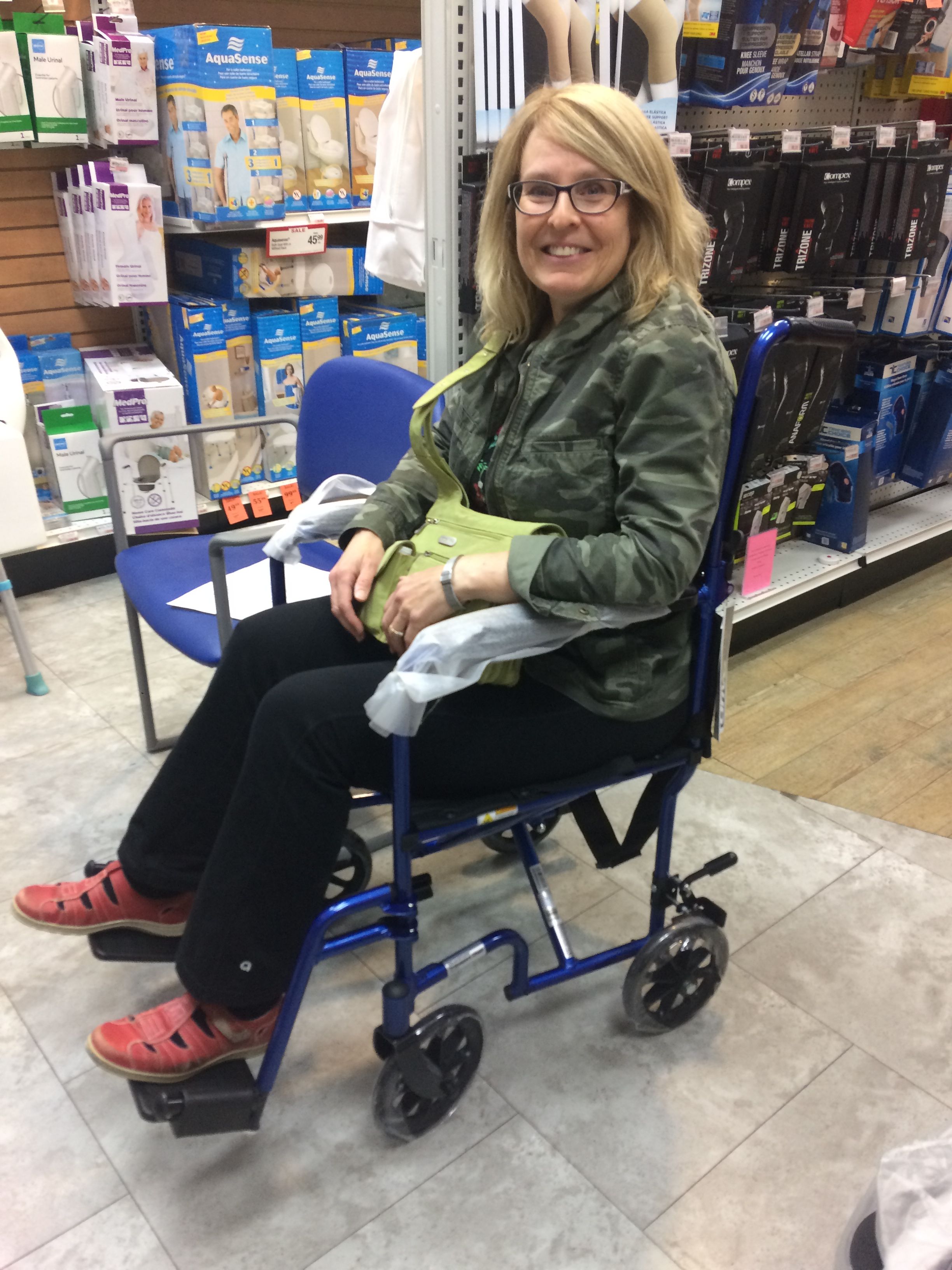 It was silly, really. Theo and I were headed to the backyard down the narrow passageway between our house and fence. He had been cavorting on our front lawn, and because the grass was wet with dew, his paws were soaked. About a month ago my husband had spread sand along the side of our house in anticipation of making a tiled walkway (some day!). I didn't want Theo's paws to get all sandy/dirty. So as I bent down to pick him up, I stepped to the right, then watched in horror as my whole right foot bent parallel to the ground! I had stepped right into the dirt-bath hole created by the birds that frequent our place over the summer. 
I knew right away that this was a bad injury. I assumed it was an ankle sprain. But as the day progressed and I fulfilled the errands that absolutely had to get done (including walking Theo), the pain got progressively worse to the point that I could barely walk. Concerned that I had actually broken one or more bones, I asked my husband to take me to the clinic as soon as he got home. 
The doctor examined my foot and ordered x-rays—five of them! Thankfully, the results came back—no broken bones. Nonetheless I had what is called a mid-foot (not ankle) sprain—something I have never heard of before! Mid-foot sprains are known to be particularly painful—and I can certainly attest to that! The doctor prescribed an anti-inflammatory/pain medication and sent me off to get fitted for a walking boot to help stabilize my foot. 
The photo above was taken at Willow Grove Pharmacy in Saskatoon. I am mentioning them by name because Angela, whose husband owns the pharmacy, gave me SUCH amazing service! Nonetheless, my smile belies the fact that I was literally starting to shake with hunger and pain. 
At first, my pride had stopped me from accepting the wheelchair Angela offered. But it didn't take me long to get over that! I simply couldn't put any pressure on my foot without feeling deep pain. I am grateful for the kindness and care Angela showed me. (She is a former nurse.)
While the fitting of a walking boot doesn't normally take more than a few minutes, I was at the pharmacy for almost an hour because the doctor's written instructions as to what product I was supposed to buy weren't clear. We tried to phone the clinic for clarification, but we were put on hold for what seemed like FOREVER, so my husband ended up taking photos of the boot Angela thought I needed then rushed back to the clinic to try to re-connect with the doctor. Hubby must have been waiting close to a half hour while he waited for the physician who was in the middle of an emergency situation. Oh vey! It was a comedy of errors. 
I also bought a tensor-bandage ankle support and Angela recommended crutches. It ended up being an expensive injury, but we are hoping that my husband's insurance will cover at least part of all the paraphernalia I had to buy. 
That first day and evening I was in a lot of pain. (And I have a high pain tolerance.) My husband prayed over me and I prayed too. Miraculously, the next day I was in a LOT less pain. Nonetheless, I continued to rest as much as possible over the weekend as this coming week I am going to be virtually on my own in taking care of the puppy due to my husband's busy schedule. 
With visitors coming this weekend and needing to prepare for the launch of my new picture book The Underdog Duckling in ten days, I am not going to have near the 4-6 week recovery period the doctor recommended. But what I can do is pare down, lower my expectations, rest as much as I can, do only the necessities, and continue to pray. I have learned through this experience that when life takes an unexpected turn, the best we can do is simply do the best we can.
Sign up for my newsletter now and get a FREE PDF of my award-winning puppy story published in Christmas With Hot Apple Cider (That's Life Communications)! Only available for a limited time!