This summer I was blessed to attend Write Canada, Canada's largest conference for Christian writers, at the Holiday Inn Yorkdale in Toronto, Canada, on June 23-25th, 2016. I was able to attend the conference thanks to a bursary and a generous donation by a supporter of my ministry. I am incredibly grateful and humbled for these supports. Many thanks are extended to everyone who was involved in the planning and execution of Write Canada; you are very much appreciated! 

This blog post and the two to follow document my personal experience at Write Canada 2016. Of course, each delegate will have his or her own unique story. If you would like to share a snapshot of your experience at Write Canada below in the Comments, I encourage you to do so! What was a highlight for you? 

My first session was with Timothy J. Beals, the owner of credo house publishers out of Grand Rapids, Michigan.  Tim's session was titled "A Comprehensive Guide to Agents and Agenting," and the content certainly lived up to its name. Tim was a very pleasant speaker and had excellent information for authors. His presentation included a definition of what a literary agent is, and what an agent does for authors (collaborates, associates, advocates, negotiates, communicates, and mediates). Tim explained what an author platform is, giving the delegates an opportunity to reflect on how our qualifications and the content of our work might be of interest to agents.
 
Tim also gave us guidelines for approaching agents and what a good agent should do; shared his tips for working with an agent and effective author-agent agreements; and explained how an agent can help your career. He also gave us a template for an elevator speech, essential in clarifying to others and ourselves what our book is all about. 

I had a chance to meet one-on-one with Tim later on in the conference, but with all the activity going on, I admit I was unprepared and my pitch to him for my new children's book was less-than-excellent. However, Tim graciously took the time to approach me later in the day and encouraged me to chat with another publisher who was at the conference, who he thought would be a better match for my book. I was thankful to have met him and appreciated his expertise. 

Tim's session is not available on CD or MP3 but if you have a specific question on agents, please feel free to contact me at sally@sallymeadows.com and I will do my best to answer your question based on what I learned in Tim's session. 

Well-known American Christian fiction author and speaker Cynthia Ruchti led the second session I attended. Her topic was "Deepening The Emotional Connection." I loved how she encouraged us to write so that the readers don't just listen, but "lean in." Cynthia provided a handout that gave practical tips on how to deepen the emotional connection in our writing, and I really appreciated her ability to incorporate biblical principles into her guidelines for writing. 

I felt an instant connection with Cynthia and had an opportunity to get to know her a little bit better than the other attendees, as I was her classroom helper for this session. Later I was also able to meet with her one-on-one, when I asked her specific questions about how she got started in and built clientele for her speaking career. I purchased her newest book, Song of Silence.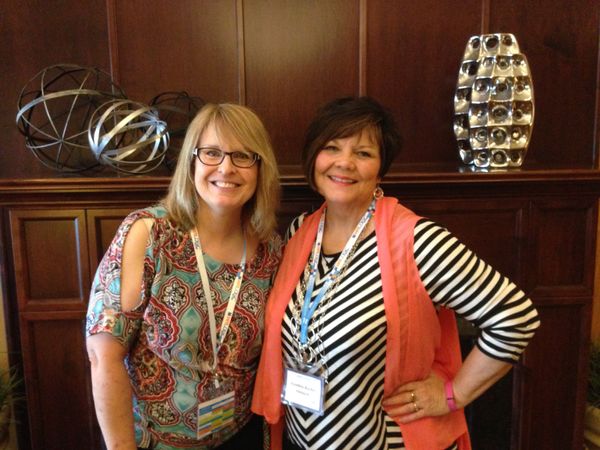 Cynthia's session is available to purchase on CD or MP3 at https://thewordguild.com/2016-wc-audio-order-form/. 

Switching gears a bit, I'd like to give a shout-out to the Holiday Inn Yorkdale staff, who bent over backwards to accommodate my dietary needs. Well done! 

While I was standing and waiting for my custom evening meal to be prepared, a very tall gentleman with glasses came over and asked me where the conference attendees were to eat. I pointed out the buffet area to him and mentioned that after we got our food, we were to carry our plates to another room to eat, pointing in the general direction. I then turned away from him—a little hurried in my response, although not rude—and I didn't give him a second thought. 

That is, until the keynote session that evening, when this same man walked up to the podium! I kicked myself because I hadn't recognized that the man who approached me was the keynote speaker, Davis Bunn! (What an opportunity I missed there! Yikes!) Davis Bunn is an internationally recognized American Christian author with numerous best-selling and award-winning books under his belt. I couldn't help but think of that scene in the movie Notting Hill when one of Hugh Grant's friends didn't recognize the internationally acclaimed actress played by Julia Roberts!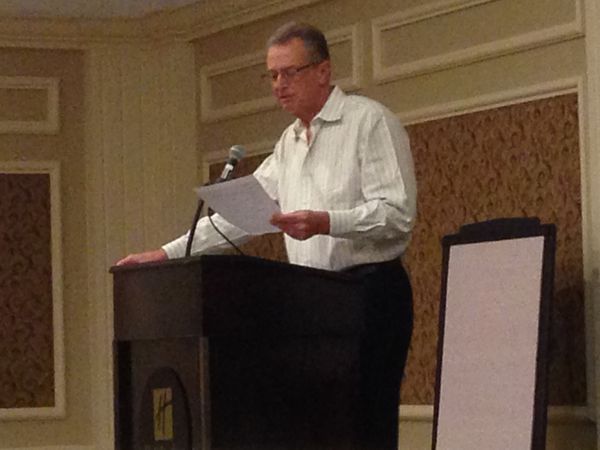 Davis Bunn's keynote was excellent. Here is a brief summary: 
1) Declare to yourself that you are a writer. 

2) Accept the difference between your current project and your calling; in other words, see your work as a product separate from who you are as an artist. 

3) Reward yourself often and well, independent of what others think. 

4) Develop spiritual resources that develop your spiritual gift. 

5) Where possible, adapt to the changing world. 
You can purchase an MP3 or CD of both of Davis Bunn's keynote presentations at https://thewordguild.com/2016-wc-audio-order-form/. 

So after the keynote, I went up to Davis Bunn and apologized for my earlier gaffe of not recognizing him. He was very gracious about it and was a good sport to pose for this photograph with me.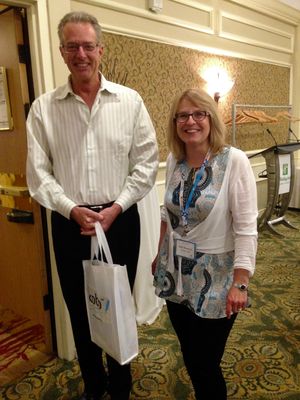 Thanks again to the Write Canada team for a memorable weekend! 

Next post, coming soon: WRITE CANADA 2016 – DAY TWO!