This past week our focus was on socialization and new adventures for our little Theo. We heard from both the vet and the trainer that it is very important to introduce puppies to as many people and situations as possible while a dog is still young. We had been fairly protective of him up until he received his final round of vaccinations last week as per the breeder's direction. Now that he is fully vaccinated we are taking the opportunity to introduce him to other dogs and to new situations to help him overcome some of the fearfulness he had displayed in the past (11-17 weeks old). 
So this past week, we have taken Theo to three different pet stores plus a big furniture store who let us bring him in to save my husband and I having to "tag team" in order to buy some new furniture! At one of the pet stores, Theo met yet another Miniature Schnauzer, this time a shy, quiet, one-year-old female. Her owners let Theo spend an extended time getting to "know" her. 
We have also started walking him all the way around our suburban pond (by the way, did you know that my new book The Underdog Duckling is set at my local pond??), where he has met a few new friends including the mature female Miniature Schnauzer mentioned in my last blog.
We have also taken Theo out three times so far on grid roads. The first time we went, my husband said, "This is how I envisioned having a dog...the three of us walking out in the country." It felt really good that my husband's dreams had come true.
A not-so-great thing happened this week when I was walking him alone down by the pond; another dog who was aggressively barking but only slightly bigger than Theo slipped out of its harness and headed straight towards my puppy. Because it happened so fast, I didn't have time to make a move before the dog attacked Theo head-on. Theo's high-pitched, blood-curdling scream was the worst thing I've ever heard. We ended up taking him to the vet the next day to make sure that the other dog didn't puncture his skin or organs. Thankfully, he seemed to be okay. Another lesson learned that we have to always be on the alert for the unexpected. 
The best thing that happened this week was that Theo met my son's dog, Pebbles, a two-year old, happy-go-lucky, and still-very-puppy-like Wheaten Terrier. (Would Theo be considered Pebbles' uncle LOL???) We met at our local pond—my son suggested that we meet at a "neutral" spot rather than at either of our homes—and although it took us four times as long to walk around the pond because they just wanted to play together—it was a lovely introduction to each other. Although Pebbles is twice the size of Theo, she is a puppy at heart.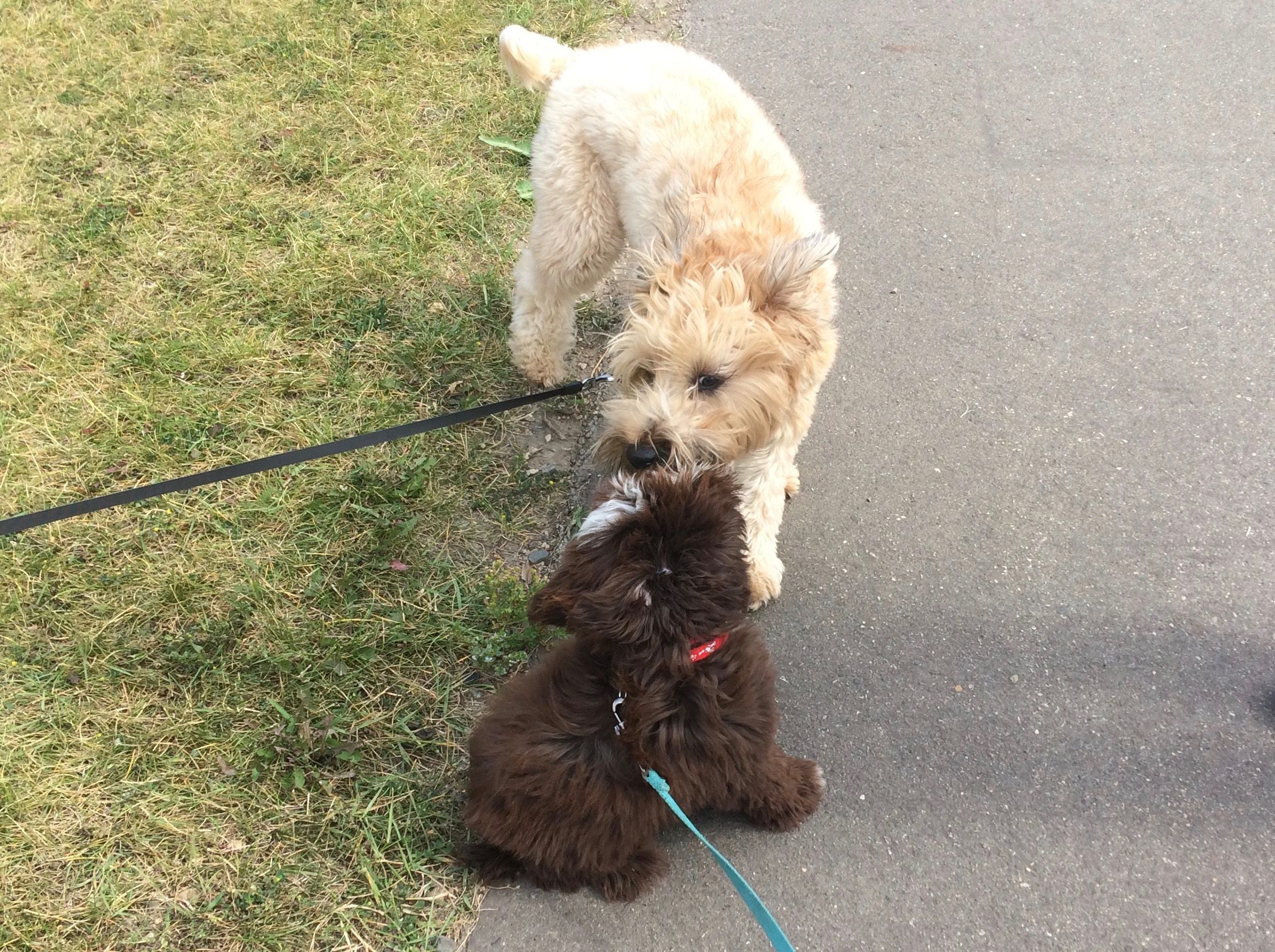 That's it for this week; if you would like to keep up with all my news, please consider liking my Facebook page here. 
If you are enjoying reading "Sally's Adventures in Puppyland" you might be interested in signing up for my newsletter. As a thank you, I will send you a PDF of my award-winning puppy story "No Greater Gift," published in Christmas With Hot Apple Cider. To sign up, click here.