The first two instalments of this blog—Part 1 and Part 2—were mostly about acts of service. Now I will switch my attention to other resources. This next instalment is about online giving—monetary gifts. 
Most everyone agrees that giving to charities is important. There are many worthy charities out there; many places where your donation dollars could go. 
I encourage you to think about these questions when considering where to share your hard-earned dollars. What are you passionate about? What stirs your soul? What are your values? It is important to find out if the organization you are thinking about supporting aligns with these values and interests. 
I give to charities as the Lord leads. Sometimes it's a one-time thing. Or, I may support an organization for a year or two. In some cases, I support them on an ongoing basis, for many years. 
For example, I supported the Multiple Sclerosis Society for several years. Why?—Because I met and became friends with someone who has MS. Similarly, for a period of time I supported Cystic Fibrosis Canada—because I met a young mother whose newborn had CF. I found the mom incredibly brave in the face of difficult circumstances and she inspired me to give towards research to help eliminate CF once and for all. 
Sometimes we support organizations because a family or extended family member has been struck with a particular disease. Our giving can be planned or impromptu. For whatever reason you give monetary gifts, you are fulfilling a well-known biblical principle. 
Here are some of the charities I have given to this holiday season. 
ON THE SEVENTH DAY OF GIVING—COMPASSION CANADA'S GIFTS OF COMPASSION 
If you have been following me for a few years, you may remember that I was a Compassion Canada Performing Artist. That means that I acted as an ambassador for Compassion Canada and helped find individuals interested in supporting a child in a developing country during personal appearances (concerts, speaking engagements, etc). Although I had to step back from that role, I continue to support two children on a monthly basis. It IS a financial commitment, but I have been and continue to be blessed to personally witness how "my" boys have grown spiritually, emotionally, and physically. 
Every year during the Christmas season, there is the opportunity to purchase special Compassion Canada gifts for those living in poverty. I especially like to purchase gifts that help empower those in third world countries. Compassion Canada is one of the most respected charities of its genre. 
This is a great way to engage the younger members of your family. How fun is it for your children to choose a tangible gift for someone their age in a country far away? 
Here is a screen shot of the kinds of gifts you and/or your family can purchase. Note that there are a wide variety of prices so as to fit into everyone's giving budget. 
Screen shot of a Christmas gift page on Compassion Canada's website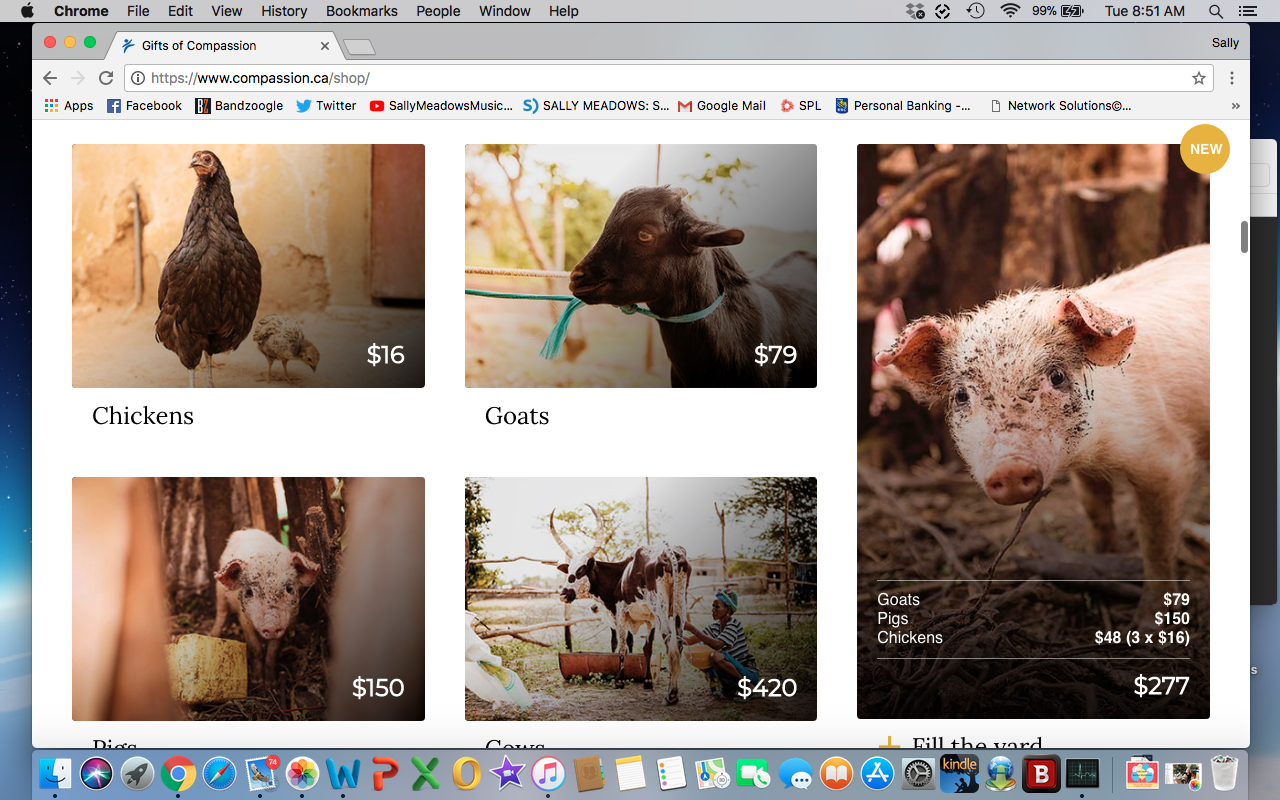 Click here to find more about and/or give to Compassion Canada:
For my international friends: 
ON THE EIGHTH DAY OF GIVING—INSCRIBE CHRISTIAN WRITERS' FELLOWSHIP 
This year I decided to donate some money to a national writers' group I belong to, InScribe Christian Writers' Fellowship. Why? Because I know that there are some writers who would love to come to conference but can't for financial reasons. I myself have been tremendously impacted by the conference in the past—not only vocationally, but spiritually and emotionally as well—so I would love to give a helping hand to someone who can benefit as I have. 
This photo was taken at our 2017 fall conference during the kickoff of our brand new anthology Christmas: Stories & More. Attendees were attempting to draw a Christmas scene I was describing—on a paper plate on their heads! It was even more fun than it looks! 
Fun and celebration at InScribe's 2017 fall conference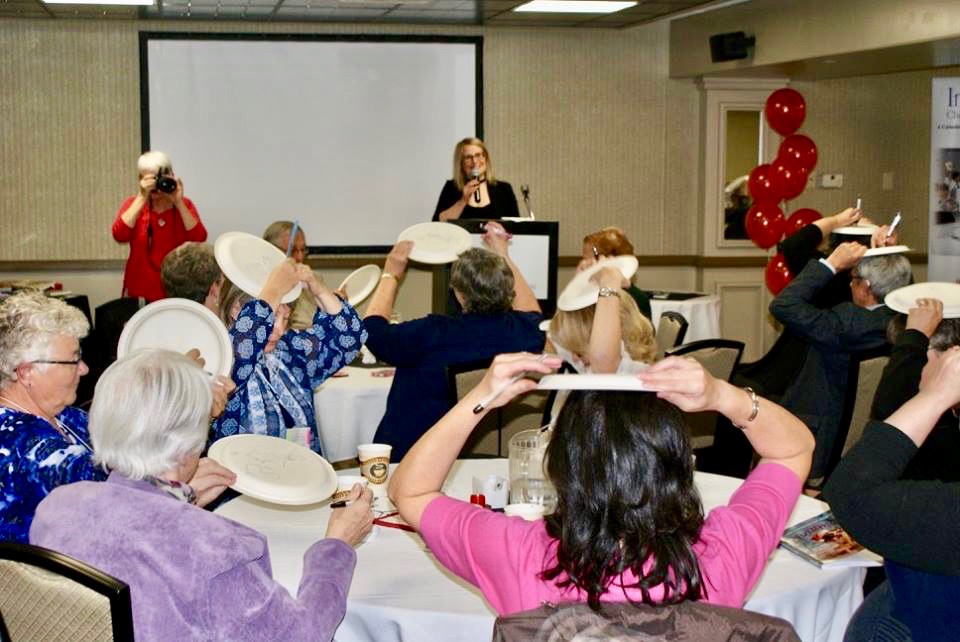 If you are a Christian writer who has benefitted from InScribe Christian Writers' Fellowship, I challenge you to donate $10 or more to be a Friend of InScribe. 
Here is the link to donate: https://inscribe.org/product/friend-of-inscribe/.
You can indicate in the notes where you would like your funds to go—either to the general fund, or, for example, to help finance a writer who otherwise would not be able to attend. 
ON THE NINTH DAY OF GIVING—FOCUS ON THE FAMILY 
Focus on the Family Canada has had a huge impact on my family from when my kids were little. There are SO many reasons to donate to this amazing organization that provides resources, practical help, and prayer support to families across Canada. Look at this list of what Focus on the Family does: 
1) Helps save marriages on the brink of separation, and strengthen marriages before a crisis hits; 
2) Equips parents to raise children with godly character who love the Lord; 
3) Encourages individuals to grow stronger in their faith; 
4) Advocates for the vulnerable, including pre-born babies; 
5) Connects children with their forever families through adoption initiatives; 
6) Supports individuals through difficult life challenges; 
7) And much, much more! 
Screen shot of the Focus on the Family home page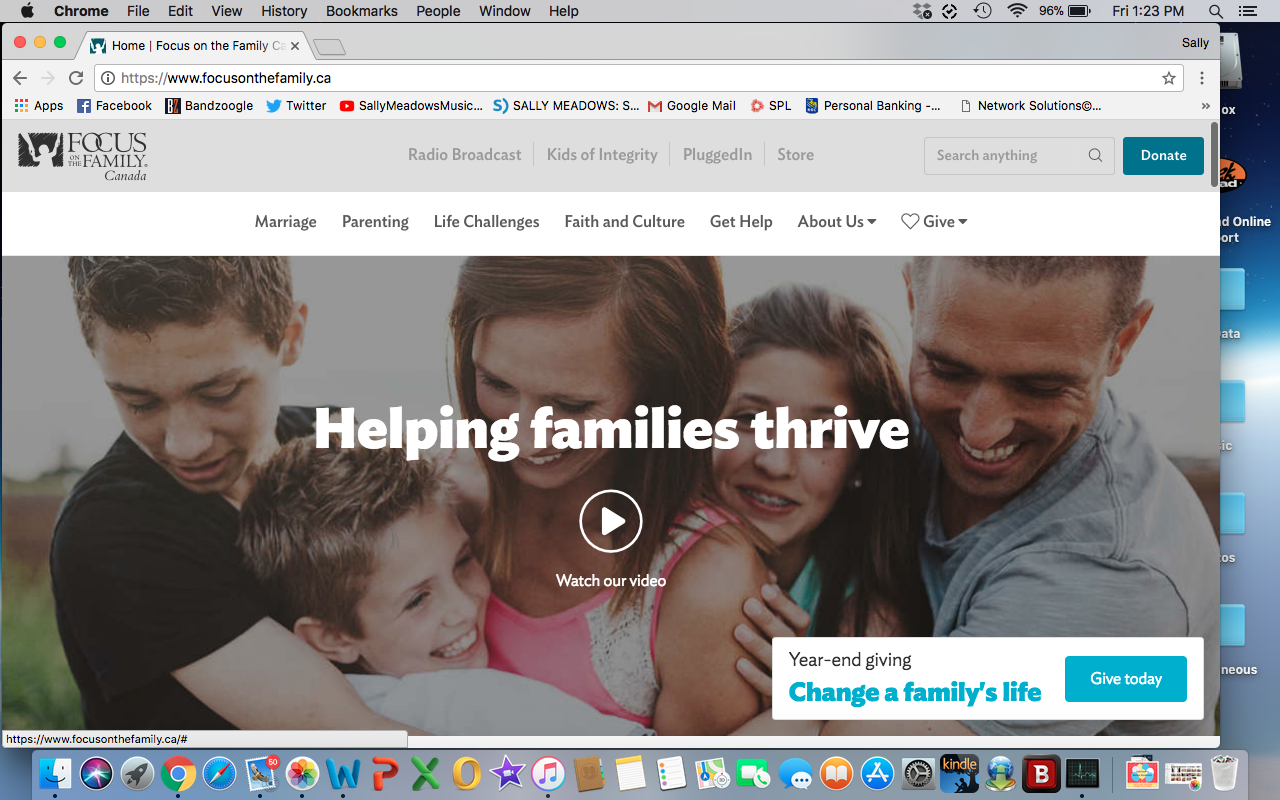 This Christmas I decided to give a donation to this worthy organization with a special year-end gift.
Whether your monetary gift is big or small, you will bless others immeasurably by taking the time to prayerfully give of your resources to others in need. 
TO READ PART 1 OF THE TWELVE DAYS OF GIVING, CLICK HERE.
TO READ PART 2 OF THE TWELVE DAYS OF GIVING, CLICK HERE. 
TO READ PART 4 OF THE TWELVE DAYS OF GIVING, CLICK HERE.