In my last post, I shared a few of my favourite scenery photos at Waterton Lakes National Park in southwestern Alberta, Canada. You can read it here. 
This post shares 17 photos of wildlife we spotted at the park in May 2017. 
We were barely inside the park gates when my husband, who has an eagle eye, spotted something in the trees. While he thought it might be a golden eagle, once I zoned in on what he was seeing, I was sure it was something wrapped around the trunk. We grabbed our cameras and got out of the car. I stayed on the road while my husband waded through the tall grass to get a closer look.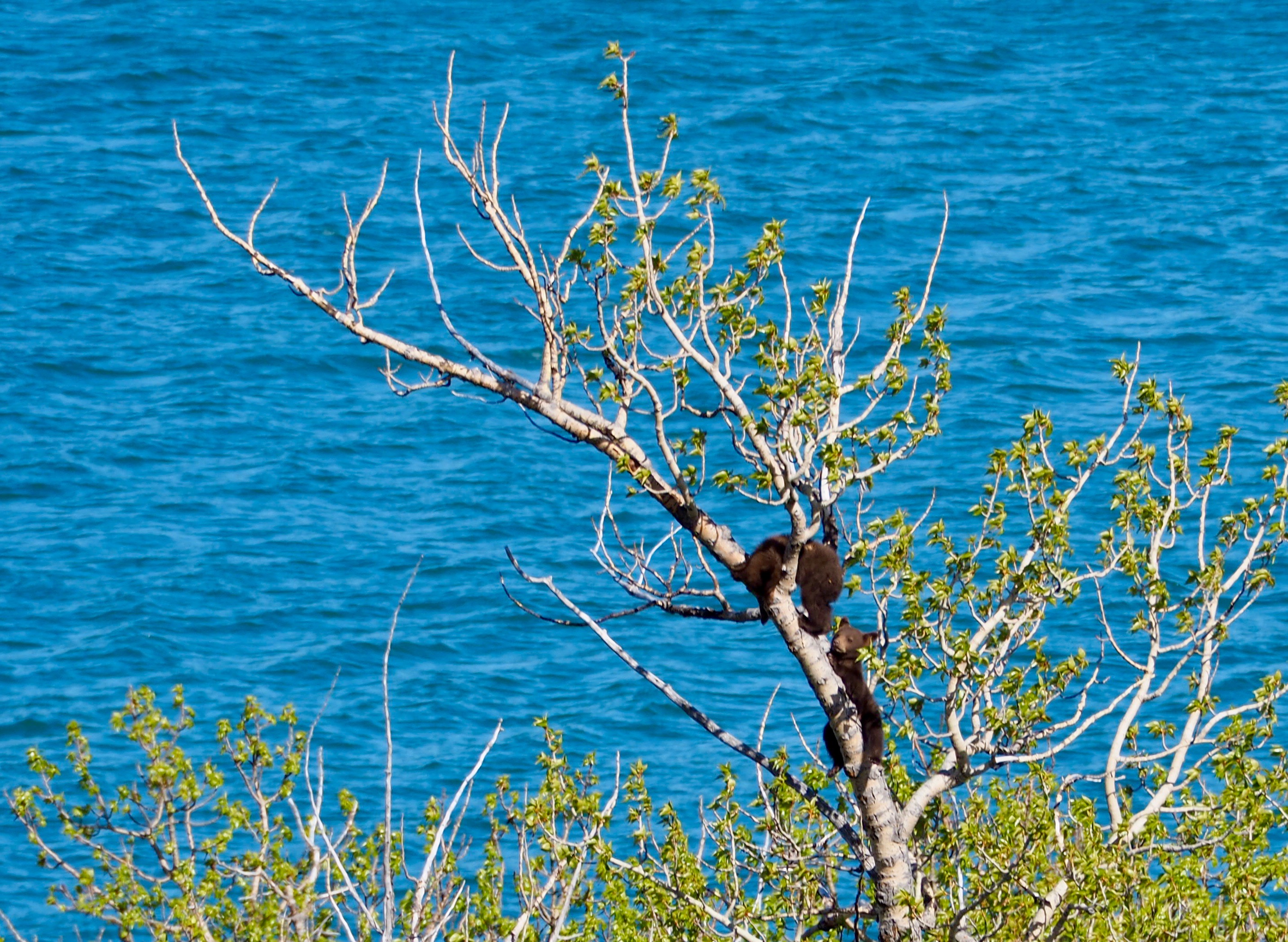 Here's what we saw—two baby black bears near the top of a very tall tree. We also spotted a larger cinnamon-coloured bear up a second tree a short distance away. What a great introduction to the wildlife at Waterton Lakes National Park—three bears at once! 
We had read that bighorn sheep frequent the town of Waterton, and we were just within the town limits when we had our first sighting!  Although they can be found singly or in pairs, we found that groups—usually all-male or all-female—were more common. This male looks like it is whispering into the ear of the second one!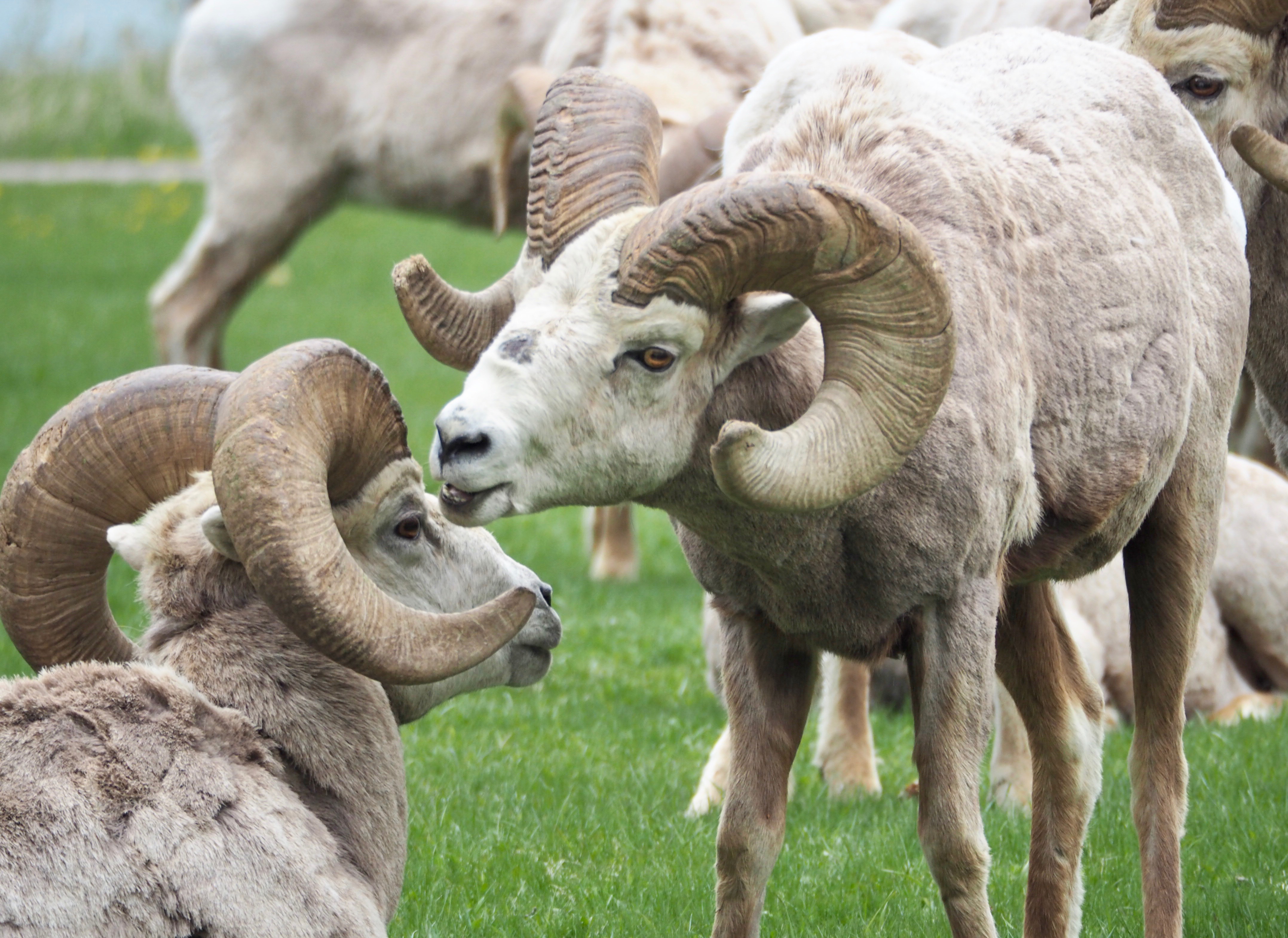 Strolling along the shores of Waterton Lake that evening, we were thrilled to be able to photograph a pair of Barrow's Goldeneye. This photo shows the dramatically coloured male. Barrow's Goldeneye is similar to the Common Goldeneye, but has a much more restricted range in Canada than the latter.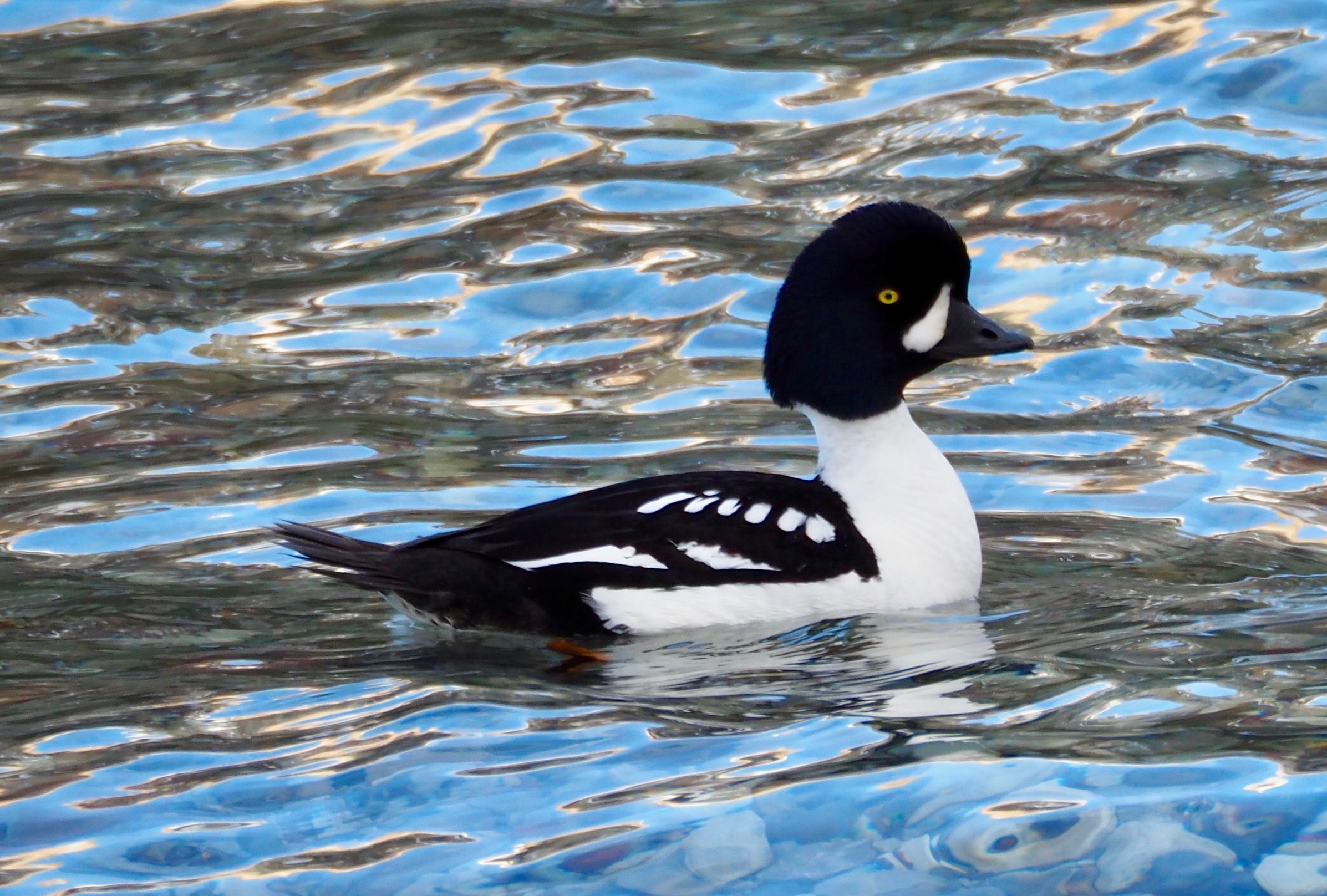 This beauty found amongst the trees is a yellow-rumped warbler. They are quite common across Canada especially in the winter, but this is the first time I have seen and photographed one.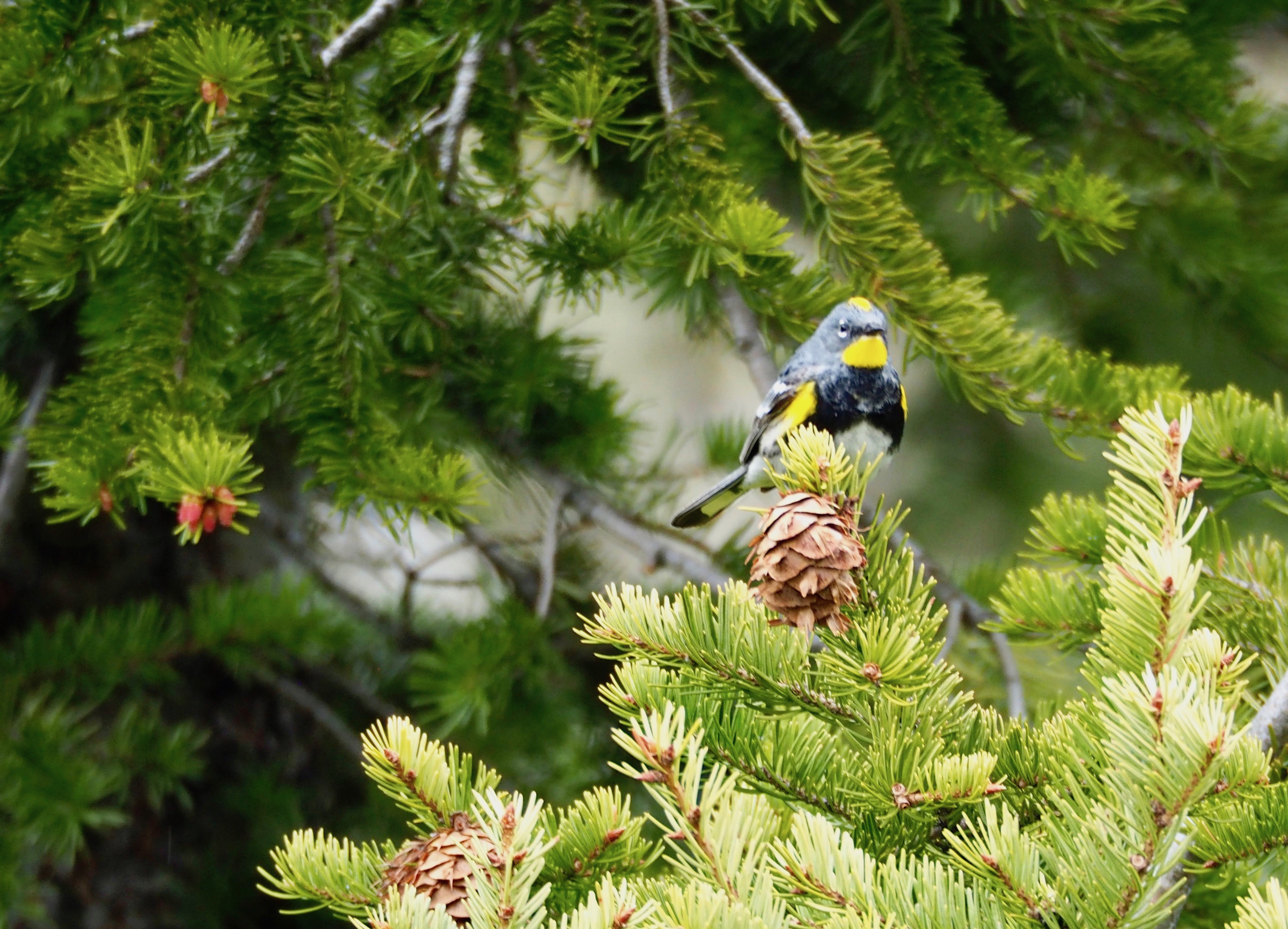 We were driving around in the park when I suddenly saw movement—obscured by tall weeds—of a very large animal in the ditch beside the road on my right (I was in the passenger seat). I gripped my husband's arm—no words came out at first—then I finally blurted out "bear!" My husband backed the car up and I quickly pulled out my camera. (Yes, we were this close!)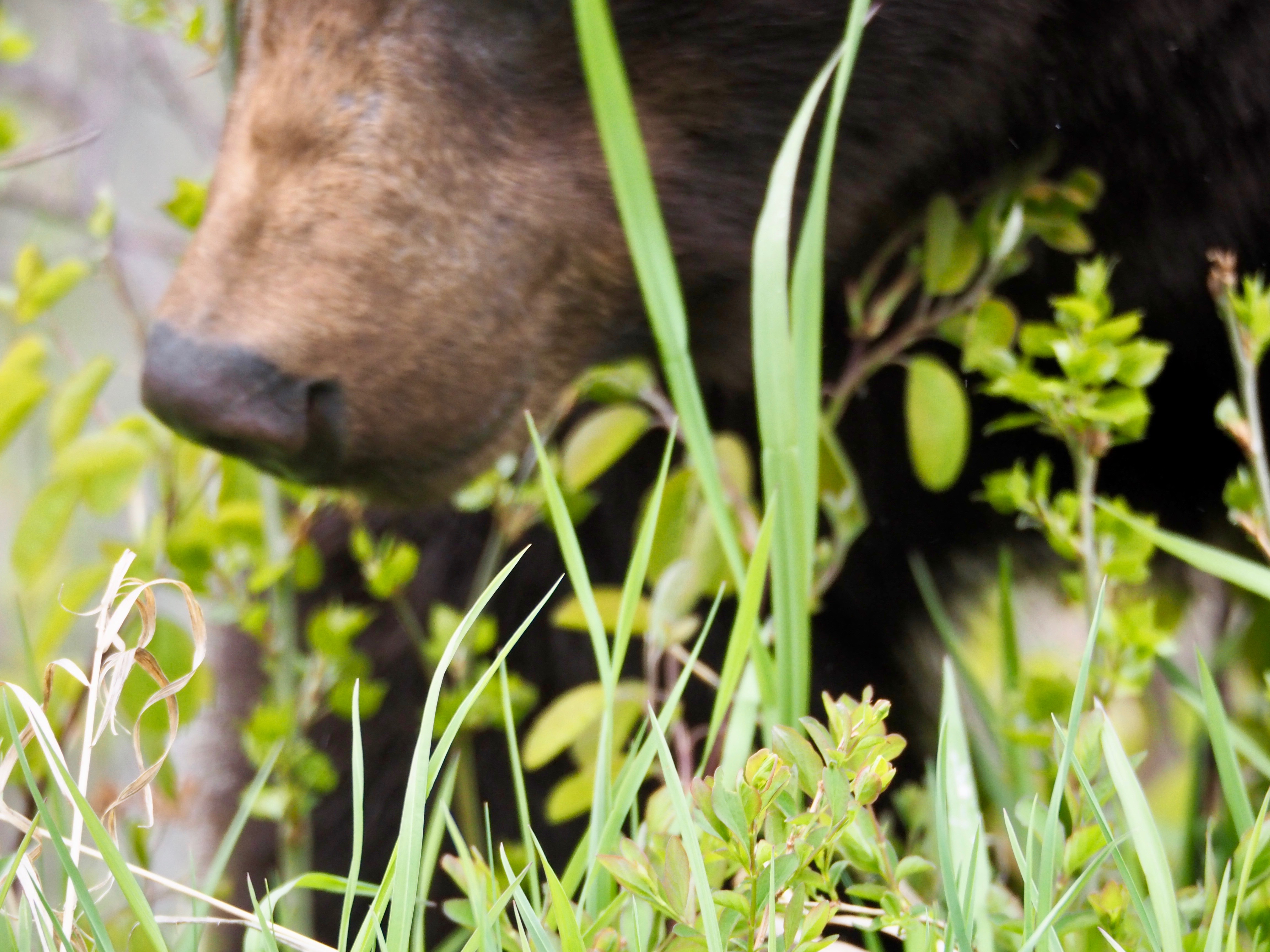 This black bear came up on the road and ambled across it, mere metres in front of our car. We watched as it easily jumped up on the escarpment on the left and continued on its merry way, quickly going out of sight. My husband, however, wasn't ready to give up. He could see that there was a large meadow off to the left ahead of us. So we drove a little farther, and parked the car, hoping the bear would reappear out of the bush. And it did, close enough for us to get this great picture as it stopped to chew on some greenery.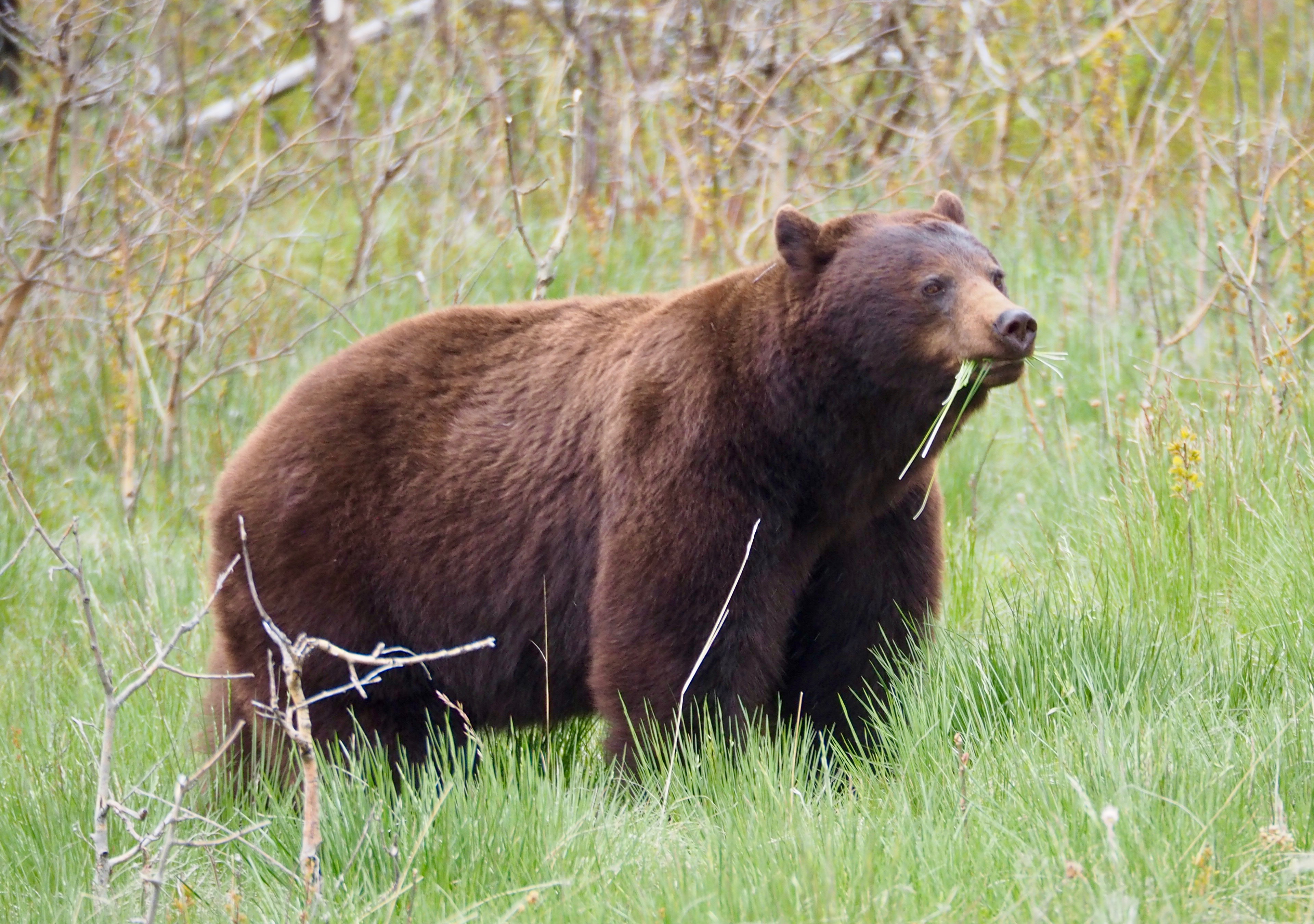 This is a ruby-crowned kinglet. Such a cute little bird!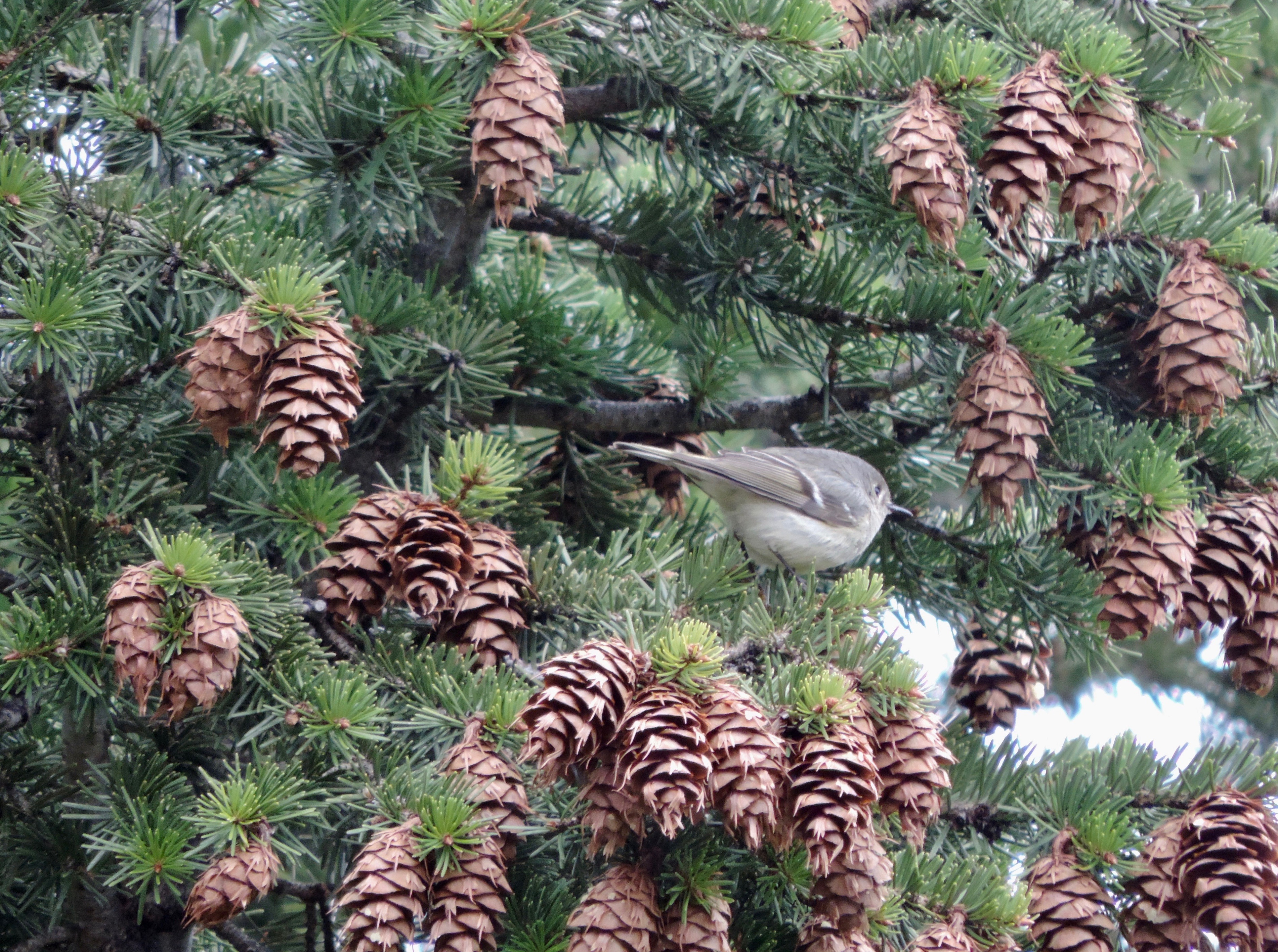 The following day, the entire region was blanketed in snow. That didn't stop us from driving around and continuing to look for more wildlife! Here is a white-tailed deer dashing away from us.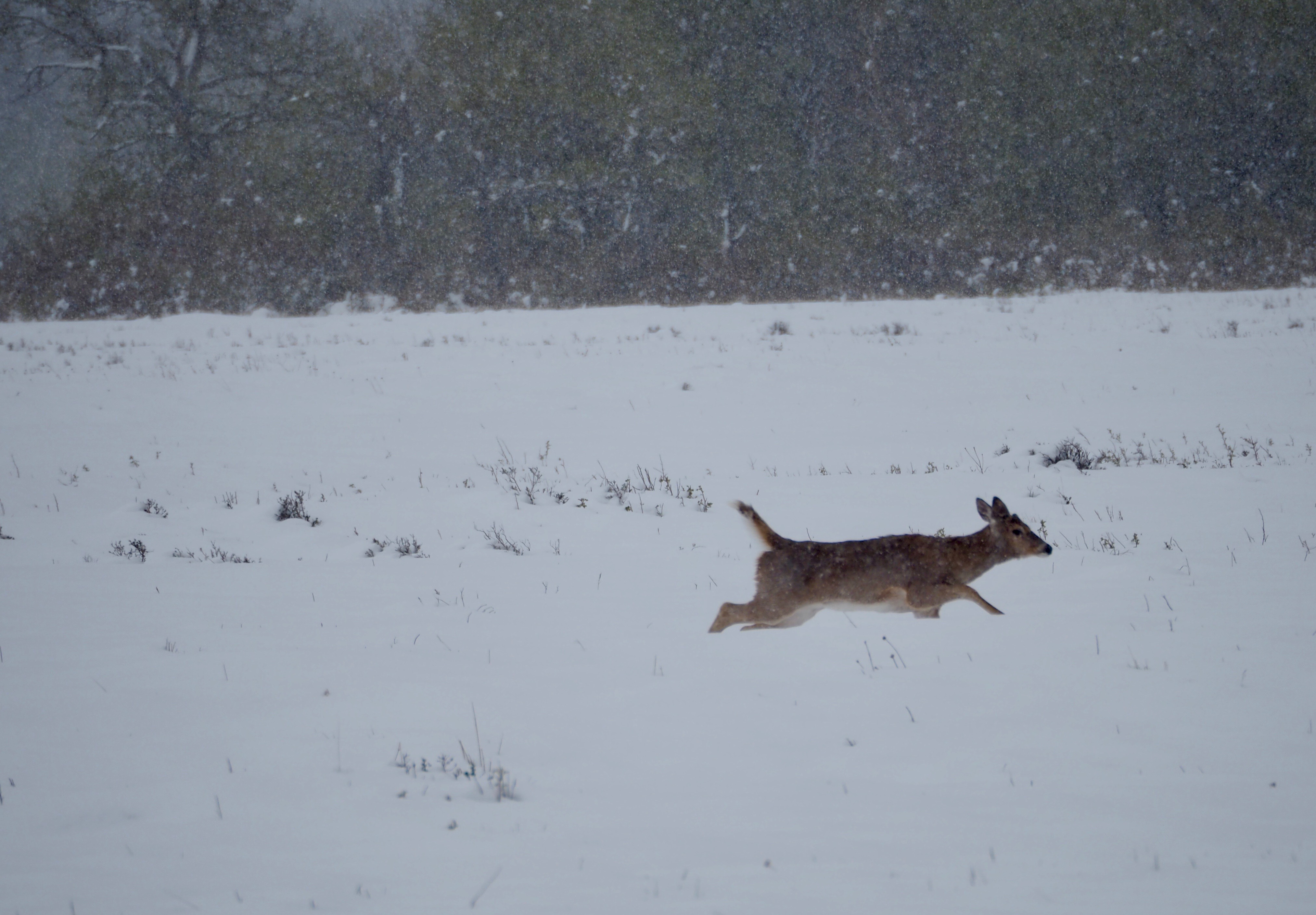 It wasn't long afterward that we spotted a herd of elk in the distance. This was just a few in the herd.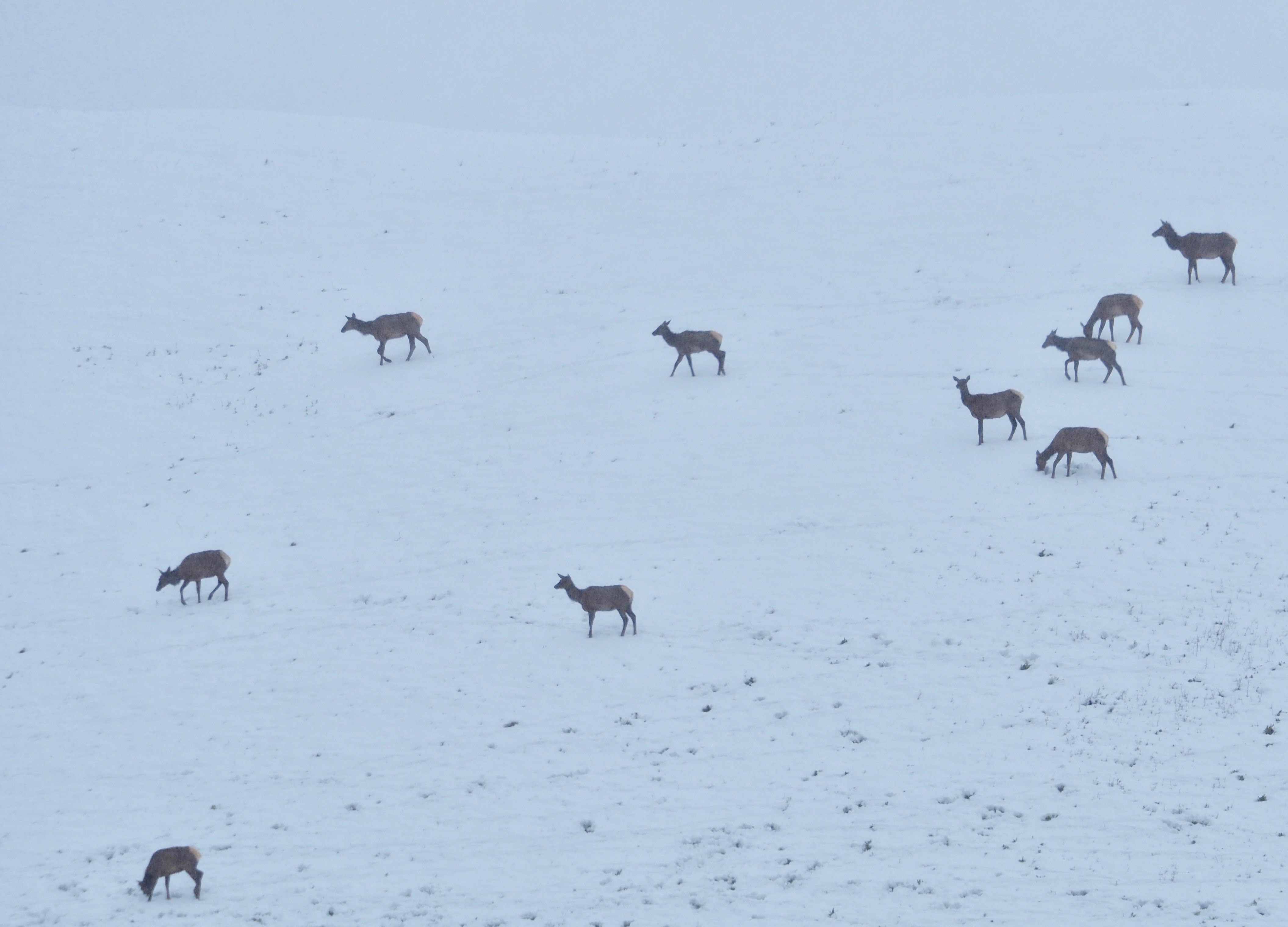 The highlight of the day for me was spending a good half hour watching this coyote on the hunt for small mammals under the blanket of snow. Here he is, about to pounce on some poor field critter.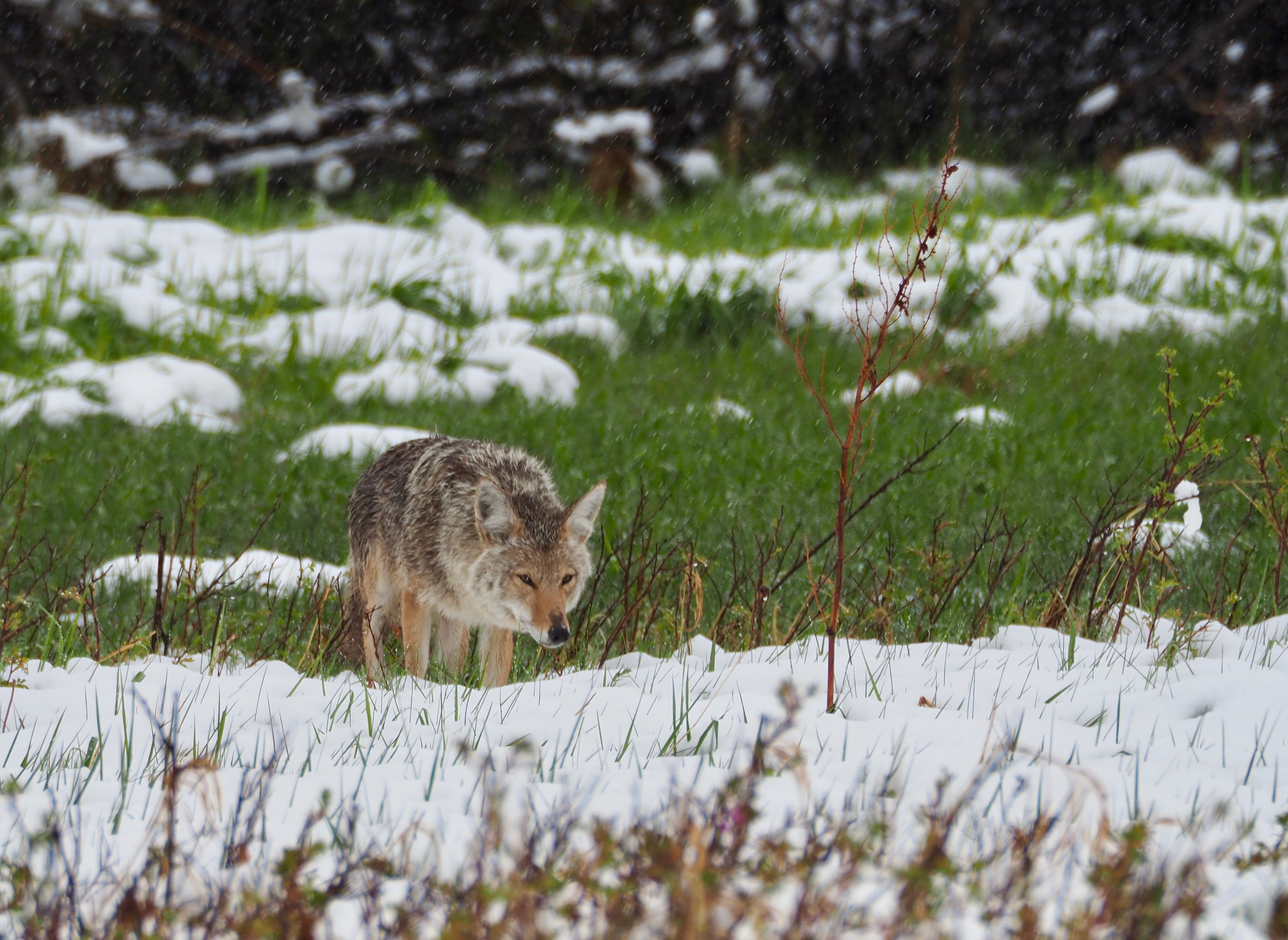 Then, a short time later, my husband spotted a pair of sandhill cranes (only one shown). These elegant birds are a a good metre (3.5 feet) tall.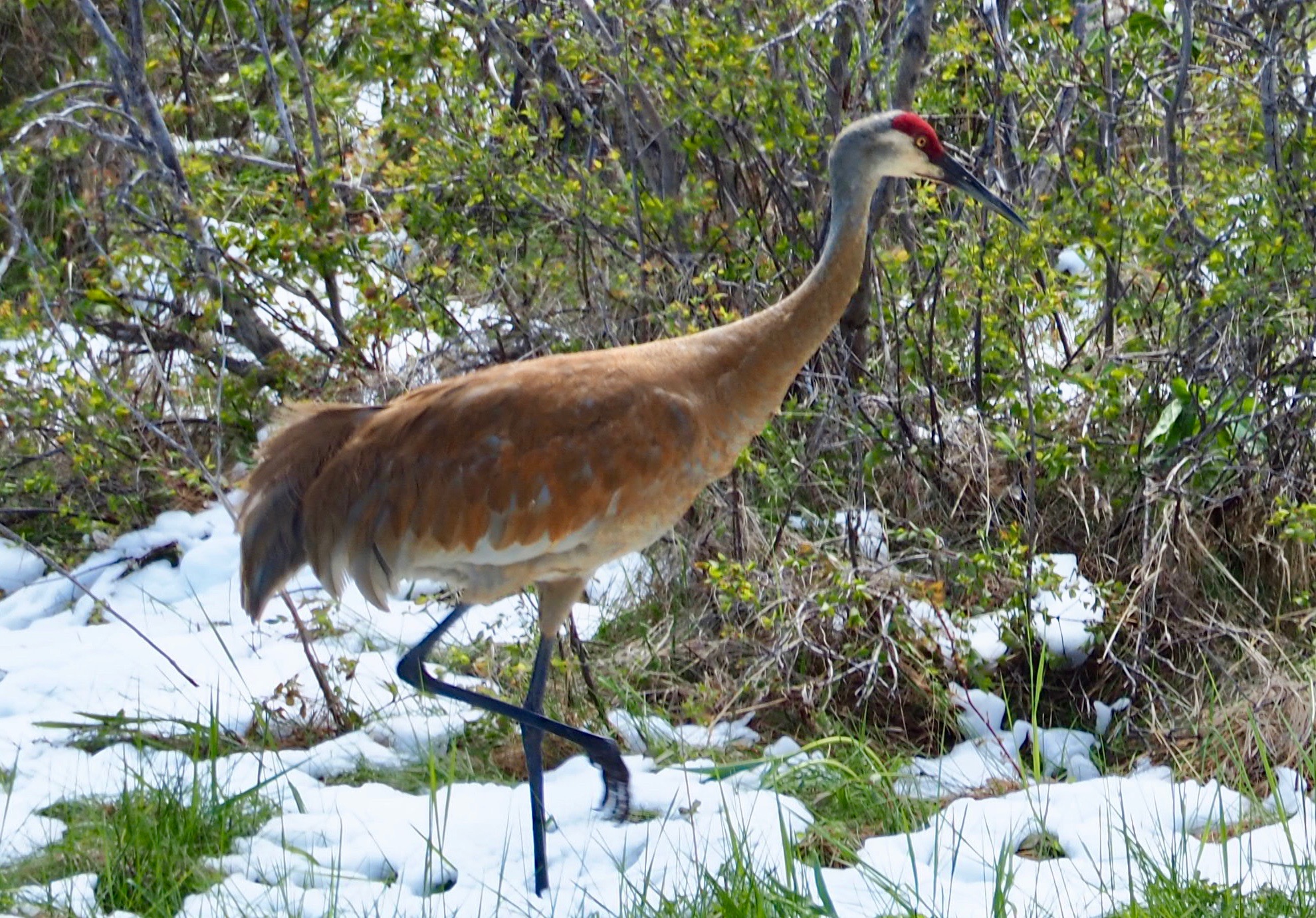 Pelicans were next on the wildlife watch. This is clearly a mating pair. The larger male has a bump on his bill—this appears in the mating season—with the smaller female leading the way.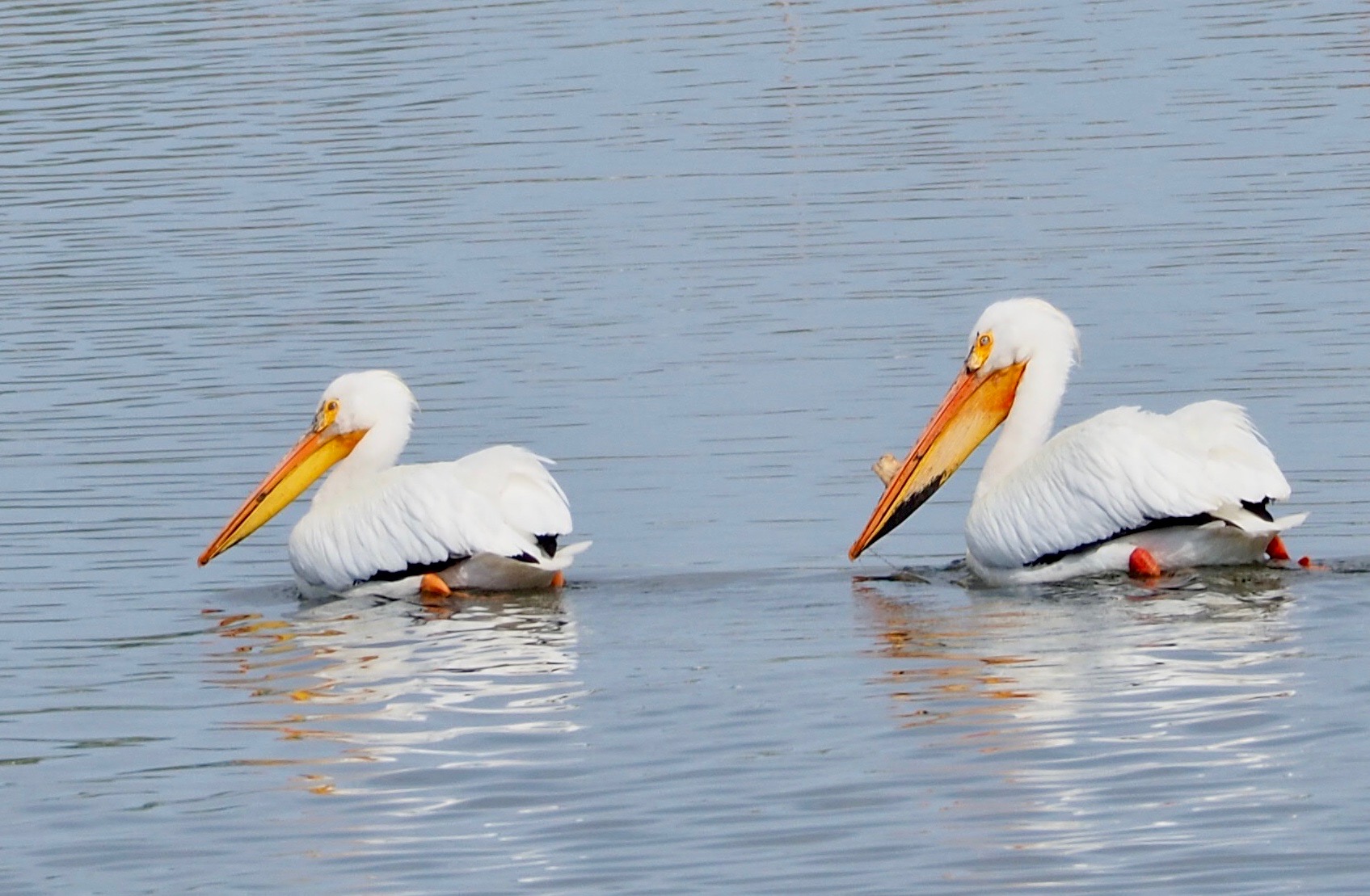 Yellow-headed blackbirds are common in my home province of Saskatchewan, but I particularly liked this photo taken by my husband so wanted to include it here! 
Just like the bighorn sheep, mule deer can be found on the town site, and I did get a few photos of them there. But I like this photo better with a mule deer we spotted while driving around.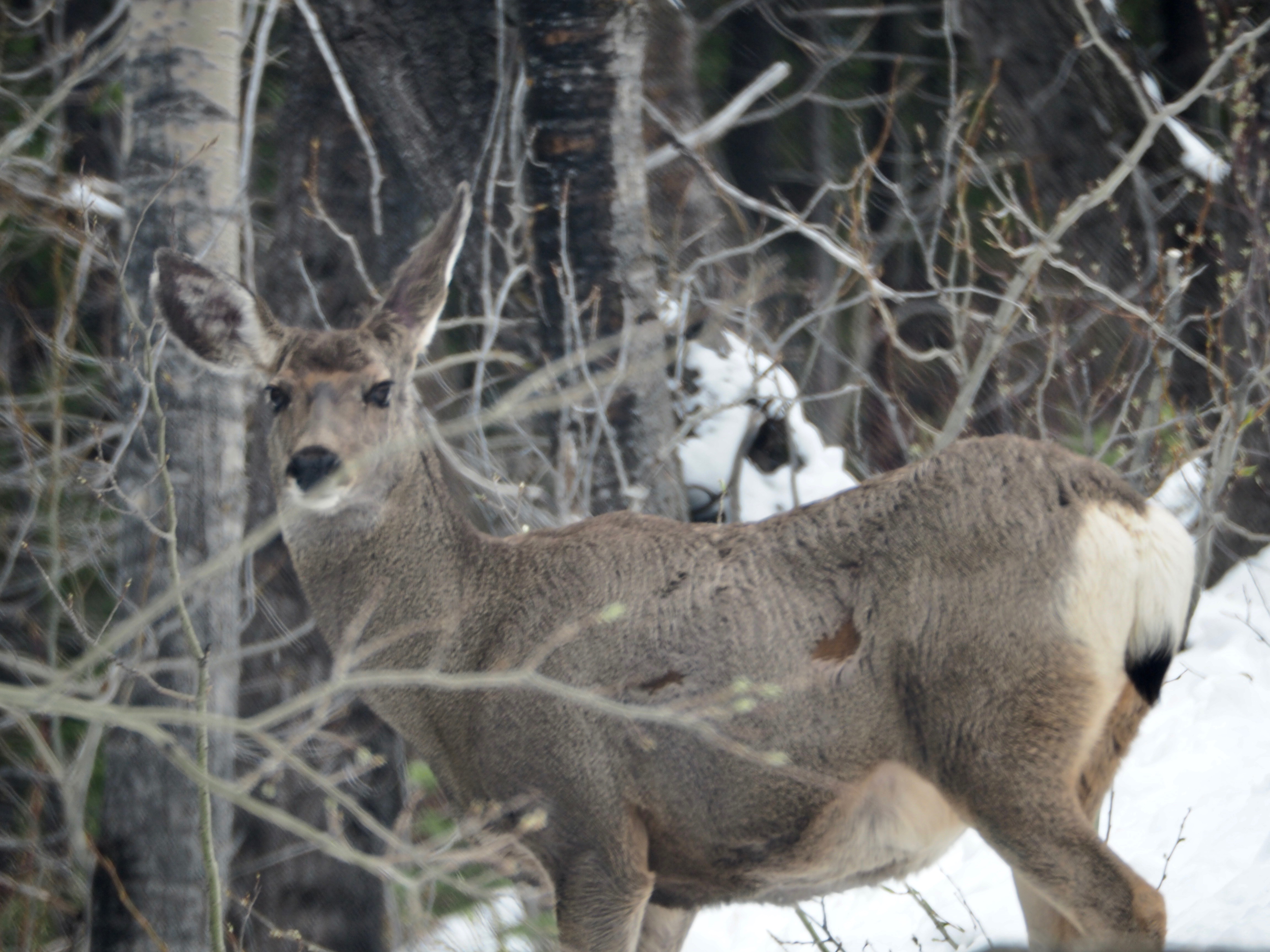 We saw a few marmots on our travels in Alberta, including this one. They are super cute and with only a little patience we were successful at photographing them.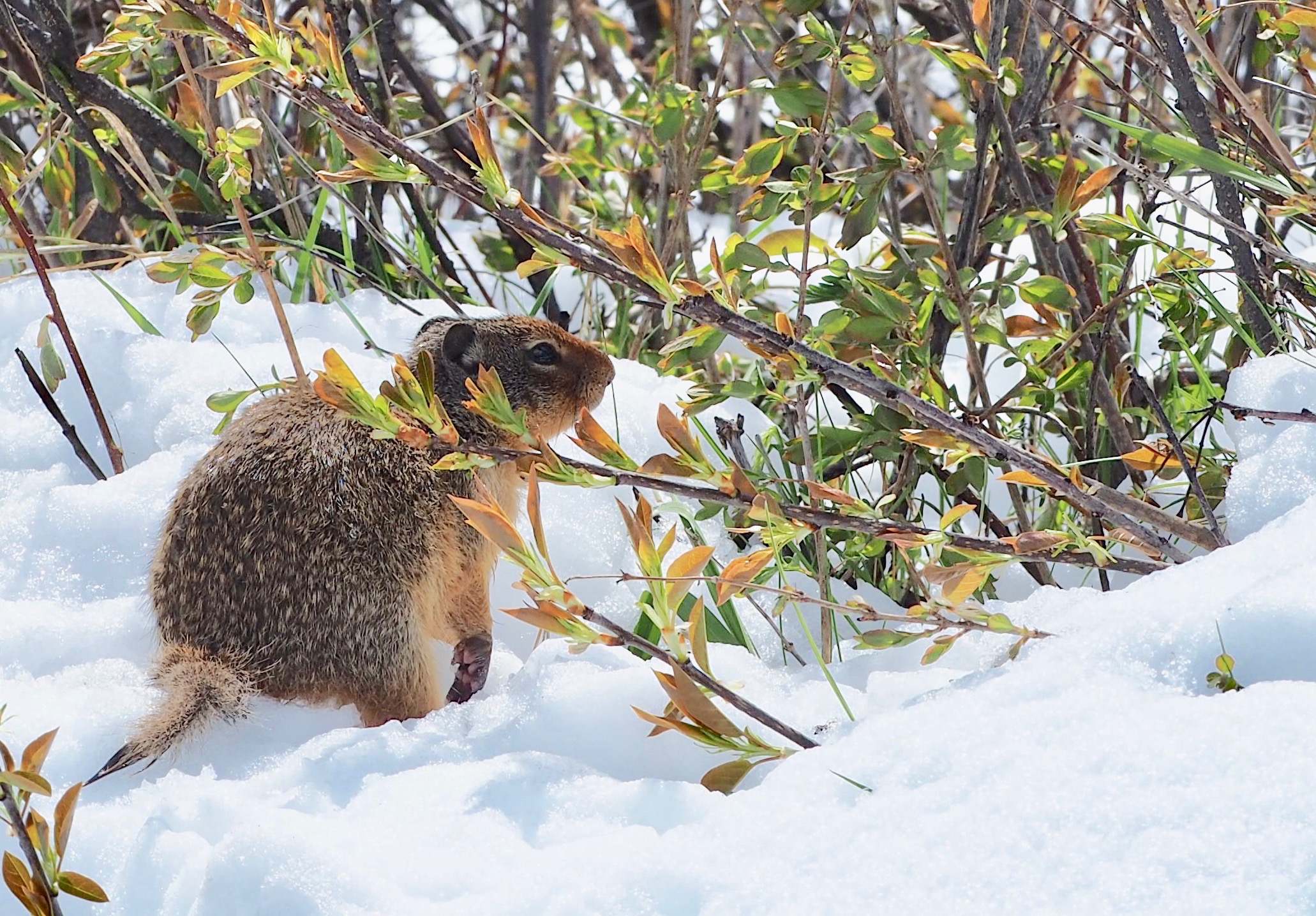 My husband spotted this beauty on one of our walks along the lake once we got back into town. He has identified it as a female western bluebird.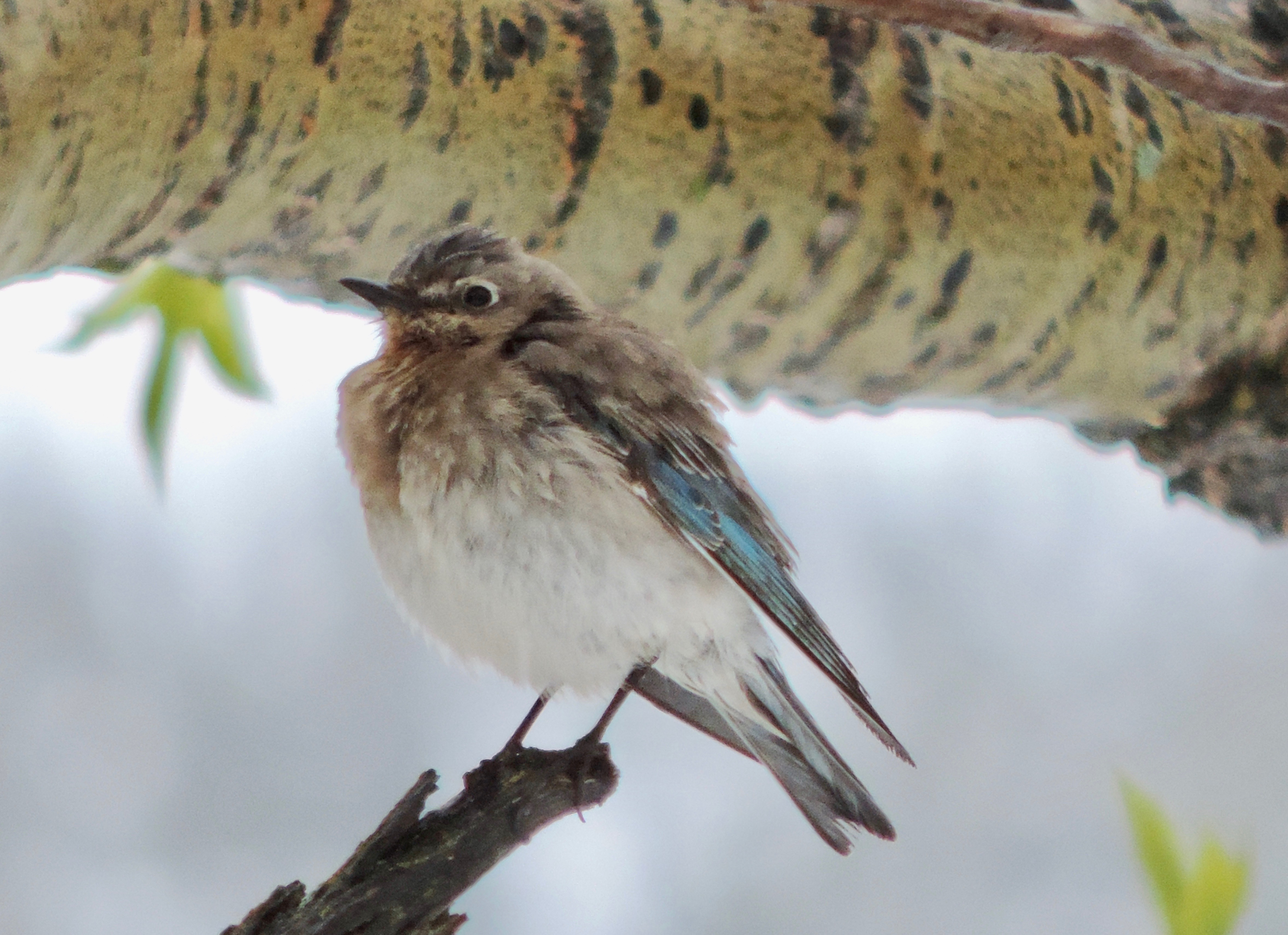 Although this isn't technically a photo of wildlife, it is a sign—there was a wolf on the trails that we hiked! Thankfully we personally didn't encounter any wolves, cougars, or bears while out walking. We know we could have, but that's the risk you take when you are out hiking in the mountains!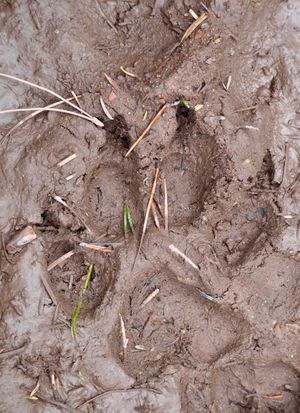 I hope you enjoyed this taste of wildlife in Waterton Lake National Park. If you have visited there before, please share what wildlife you have seen in the park, or other suggestions for our next destination! 
Click here to read the companion blog to this one, "Waterton Lakes National Park, Alberta - Top 17 Scenery Photos of 2017."