Six years ago, I was relatively new to Facebook. I got an idea to share a miracle-a-day for a full year to inspire and encourage my friends even before I had something published. I called the initiative 365 Days of Miracles. 
Some of the miracles were things I had read about. Some of them were biblical miracles. Some were my own miracles. But the vast majority ended up being miracles in nature; little gems about the amazing things that occur in the natural world, that you couldn't even dream up! 
The response was phenomenal. There were many adults who appreciated my personal stories, and even more who marvelled at the little-known facts about the animal kingdom. I knew then that I wanted to put together a book called 365 Days of Miracles—someday.
And let's face it—I am a bit of a science nerd. I have two science degrees, am a former teacher, and from 1997 to 2008, I performed science shows and led workshops for kids through my science edu-tainment business Nuts About Science! Combining this passion for sharing science with kids and now my vocation as an author was a natural.
In 2013, I quit a job that was negatively impacting my health and started working full-time as an author and musician. There were many projects that came my way over the next five years, but I never forgot my pledge to write this book. 
The right time came to revisit the project during July 2017's Camp NaNoWriMo. After reviewing my list of miracles, I retooled the manuscript to focus exclusively on amazing animal facts. Once I eliminated any non-animal miracles, it was time to do more research. I collected more facts during the fall of 2017 from a wide source of media, including books, magazines, documentaries, websites, and newspaper articles. And while for many years I was dead set on calling the book 365 Days of Miracles I switched gears to call the book When Sleeping Birds Fly: 365 Amazing Facts About The Animal Kingdom. Here's the cover.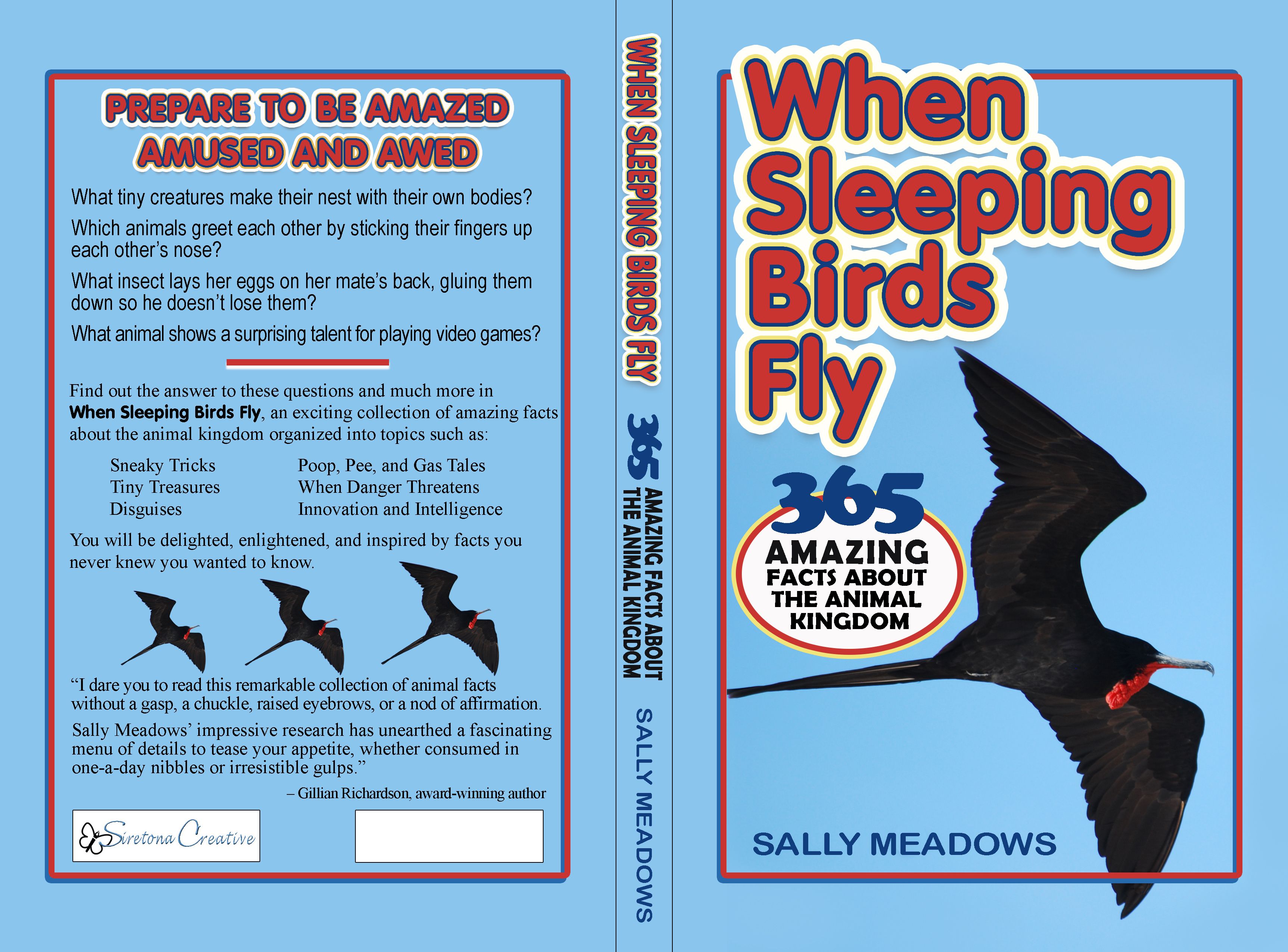 In early 2018, I started editing my manuscript (rewording, simplifying, or better explaining) followed by an intensive fact checking. This took a LOT of time. I tossed out any facts that a) I couldn't absolutely confirm, or b) I decided weren't interesting enough. If a fact was too similar in nature to another one, I re-routed it another manuscript for future book in the series. At this time, I have enough facts for three full books! 
Based on recurring themes, I re-organized the manuscript into sections such as "When Danger Threatens," "Dating and Mating," and "Tiny Treasures." This made the book more of a cohesive whole rather than a random list of facts. 
I am definitely happy with the changes I made and am very excited to finally see this book in print! 
Here are the most important things I learned from this process. If you are an aspiring author, there is valuable advice for you here too. In fact, even if you're not an author, there is wisdom here to incorporate into your own projects. 
1) If you have a great idea, be patient. Give the idea time to grow. The right time will come to act on it.
 
2) Always keep a copy of everything you write, including what you post on social media. Make a record of all your ideas. You never know when and where you can incorporate your ideas into future projects.
 
3) Don't be married to a concept or title. Be flexible and be ready to modify as needed, as you get deeper into the process.
 
4) Draw on your strengths for your creative work. Think about ways you can connect your strengths and knowledge together to grow as a writer.
 
5) Edit, edit, edit! And don't forget to fact check. Rework your manuscript as many times as you need until you reach the point of diminishing returns.
 
6) Set goals, and take advantage of opportunities such as writing retreats, to motivate you to get your project done. 
You can purchase When Sleeping Birds Fly: 365 Amazing Facts About The Animal Kingdom from my website or from amazon.ca or Barnes & Noble, and from other major bookstores such as McNally Robinson Booksellers and Indigo/Chapters/Coles.
Click here if you'd like to read my journey about choosing a cover for When Sleeping Birds Fly: 365 Amazing Facts About The Animal Kingdom. 
Click here if you'd like to read "10 Wacky Facts About Marine Animals."
To keep up with all my news via my email newsletter, click here to sign up.